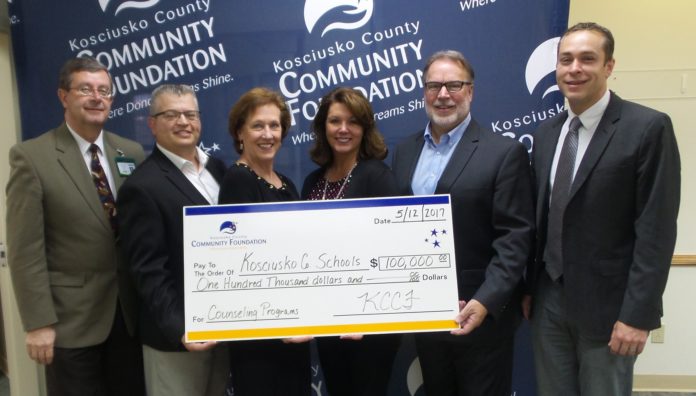 Kosciusko County Community Foundation is donating a $100,000 grant to help Tippecanoe Valley, Warsaw, Wawasee, and Whitko Schools.
The grant will benefit more than 13,000 students served by the four corporations. Its aimed at expanding counseling services to students in all grade levels.
Superintendent of Warsaw Community Schools Dr. David Hoffert says the generous investment will be put to good use.
"Throughout our strategic planning in the fall of 2016, it became evident mental health and wellness of students must become a priority for the greater good of our schools and community.  During the last nine months, intensive preparation has gone into the initiative. This grant will help us get this critical initiative off the ground."
Tippecanoe Valley Schools Superintendent Brett Boggs expresses appreciation for the support of their initiatives.
"Funds from the grant will assist in the development of a well-developed scope and sequence school counseling curriculum, providing the means and structure necessary to meaningfully impact students' social-emotional health.  A robust mentoring program – supported by local businesses, churches, and community stakeholders – will provide students access to caring individuals who will support and encourage personal excellence while helping negate negative childhood experiences."
The $100,000 grant was allocated based on school enrollment.