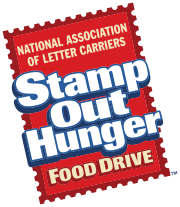 The National Association of Letter Carriers will be conducting their 27th annual Stamp Out Hunger Food Drive tomorrow with the help of the U.S. Postal Service, sponsors and volunteer organizations.
To make a donation, just leave non-perishable food donations in a bag near your mailbox before your mail runs on Saturday.
Food collected from the one-day event will be sent to local churches, food banks and food pantries for distribution.
All non-perishable food is welcome, but foods high in protein are most needed.