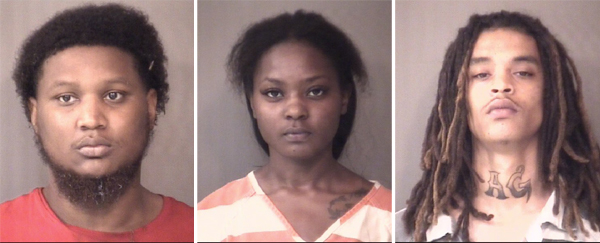 Three people were arrested recently in connection to a series of thefts from motor vehicles and auto thefts.
Between Aug. 10 and 11 and Aug. 21 and 22, multiple victims in the city of Warsaw, as well as in the county of Kosciusko, experienced losses from thefts from motor vehicles as well as auto thefts, according to a news release provided Thursday from Warsaw Police Department Capt. Brad Kellar on behalf of the WPD and Kosciusko County Sheriff's Office.
Several more reported unlawful entries into their vehicles where vehicles were ransacked, but nothing of value was taken.
Many of these vehicles were left unlocked in driveways or outside of apartment buildings. Some of the items stolen included credit and debit cards, as well as driver's licenses and other identifying information.
These thefts were all localized in certain sections of the city or county, leading detectives to believe they were all connected. As the investigations unfolded, it was found that the same subjects were observed on surveillance cameras at local businesses and businesses in other communities. These included Columbia City, Goshen, Mishawaka, South Bend and Niles, Mich.
Investigators worked with detectives in other jurisdictions to begin identifying those in the surveillance videos, the release states. It was quickly determined that they were known for similar crimes in other counties. The suspects also were identified as being affiliated with a street gang in Niles. Among other intelligence gathered against this group, it was found that they were known to carry and specifically seek out firearms left in vehicles, the release states.
Late on Aug. 30, there were additional crimes in the Backwater area, to include another theft of a motor vehicle, as well as multiple cases of theft from motor vehicles in the Syracuse area. Kosciusko County detectives combed the area. Around 66 EMS B6 Lane, a detective located two stolen vehicles: one being of a county case and the other from Warsaw. One of the suspects being sought in these cases was observed close by. That male subject, later identified as Mario Pratt, South Bend, was taken into custody, along with a female identified as KaShawn Hudson, Warsaw.
As the investigation continued, officers observed another suspect being sought during this who fled from law enforcement.  A foot pursuit ensued and the male suspect jumped in a canal while trying to flee. This caused him to sink in muck and officers had to rescue him from the water. He was taken into custody without further incident. That suspect was identified as Micheal Hubbard, South Bend.
As officers continued to search the area for two more males alleged to have fled on foot in the area prior to law enforcement's arrival, investigators from Warsaw and Kosciusko County, assisted by NET43, applied for a search warrant which was granted for the property of 30 EMS B5A Lane. During this search, officers seized evidence linked to fraudulent activity at businesses across the region, connected back to original theft cases involving credit/debit cards from motor vehicle thefts in this county.
Investigators pieced together criminal gang activity with these subjects, finding public social media posts that identified them as the "AG Boiis," a street gang connected to the South Bend/Niles areas, according to the release. This finding added another charge to the investigation of criminal organization activity, "where subjects knowingly or intentionally commit offenses with the intent to benefit, promote or further the interests of a criminal organization, the same being contrary to the form of the statue in such cases made and provided, and against the peace and dignity of the state of Indiana," the release states.
The following subjects were arrested Aug. 31. Formal charges have been filed in these cases as the investigation continues.
• KaShawn Shayanna Hudson, 20, of 404 N. Parker St., Warsaw, arrested for corrupt business influence, Level 5 felony; criminal organization activity, Level 6 felony; aid, induce or cause theft, a Class A misdemeanor; and theft, a Class A misdemeanor.
• Mario CJ Pratt, 19, South Bend, arrested for corrupt business influence, a Level 5 felony; criminal organization activity, a Level 6 felony; and theft, a Level 6 felony.
• Micheal Anthony Hubbard, 22, South Bend, arrested for corrupt business influence, a Level 5 felony; criminal organization activity, a Level 6 felony; theft, a Level 6 felony; and resisting law enforcement, a Class A misdemeanor.
This is still an active and ongoing case, as there are additional suspects being sought regarding the crimes in Kosciusko County, the news release states. Additionally, more charges may be filed on these individuals at the conclusion of this investigation.
At this time, it is believed this group is responsible for at least six motor vehicle thefts, multiple thefts of firearms from vehicles, as well as a large number of thefts of credit/debit cards leading to multiple fraudulent activity in northern Indiana and southern Michigan.
During this crime outbreak, officers worked additional hours of patrol in neighborhoods attempting to locate those involved in these crimes. Investigators worked on tips and follow-ups, often working together within the county, the Kosciusko County Prosecuting Attorney's Office, as well as seeking assistance from investigators in other counties, and the state of Michigan.
Anyone with information into these cases is encouraged to contact the Warsaw Police Department at 574-372-9515 or the Kosciusko County Sheriff's Office at 574-267-5667 and ask for the detective division.