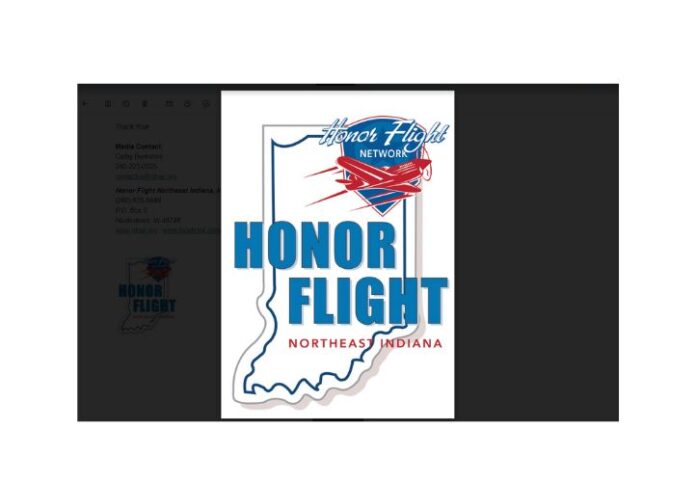 News Release
FORT WAYNE — Honor Flight Northeast Indiana is slated for its 45th Honor Flight from Fort Wayne on Oct. 11.
Eighty-five veterans from the Fort Wayne area are booked and confirmed for the flight.  Included will be 1 Post WWII Veteran, 3 Korean War veterans, 8 Cold War veterans, 72 Vietnam veterans, 1 Lebanon/Grenada veteran. Included on this flight are 5 veterans that have been awarded the Purple Heart Medal.
As of this date 3,309 veterans have traveled from Fort Wayne to Washington, D.C. on an Honor Flight.
Honor Flight Northeast Indiana thanks all the organizations and individuals who, through their donations at local events and fund-raising events have made it possible to give our Veterans a day of remembrance and honor for their service. The visits to all the memorials built in their honor, make this a wonderful day for the men and women who deserve our respect and honor!
A Welcome Home celebration is scheduled at the Fort Wayne International Airport for 9 PM.  Please plan to arrive by 8 p.m. and park in the long-term parking lot.
Cathy Berkshire, President of Honor Flight Northeast Indiana, and the entire Honor Flight Team are excited to honor this group of veterans on our 5th flight for 2023.
"We are so thankful for the community support of Honor Flight so we can Honor our Veterans with their trip to Washington, D.C. We look forward to having a large crowd at the Fort Wayne International Airport to welcome these Veterans home."