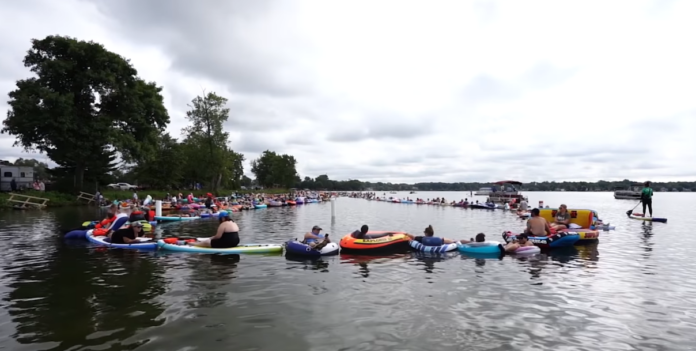 By Dan Spalding
News Now Warsaw
WARSAW — Six hundred people participated in a world record attempt for the longest floating chain of inflatables on Winona Lake on Saturday.
And although they did not break the record, the fundraiser for a local family affected by ALS certainly did make an impact.
The event was held along the shores of the Kosciusko County Fairgrounds.
The chain measured more than 2,200 feet long and people were in and out of the water in less than 90 minutes on Saturday.
Despite the inability to break the Guinness Record for the longest chain, currently held by a group in Canada, organizer Erin Sarafino said the event was a celebration of life and raised more than $5,500 to assist with bills for the family.
The GoFundMe website is still active and open for contributions.
Anje Anglin, who was diagnosed several years ago with ALS and was one of several suffering from the disease participated in the record attempt.
Sarafino is the nieice of Anglin.
Sarafino said she wanted to draw attention to the disease.
The record attempt brought together those suffering from the disease as well as those support families
Those participating also included people from California, Tennessee, Ohio and Connecticut, she said.
The gathering, Sarafino said, was a celebration of life that continued later that night at the Tippy Creek Winery near Leesburg.
"It's a horrible disease," she said. "It takes people's lives in a short amount of time and it affects all the people around them who are taking care of them."