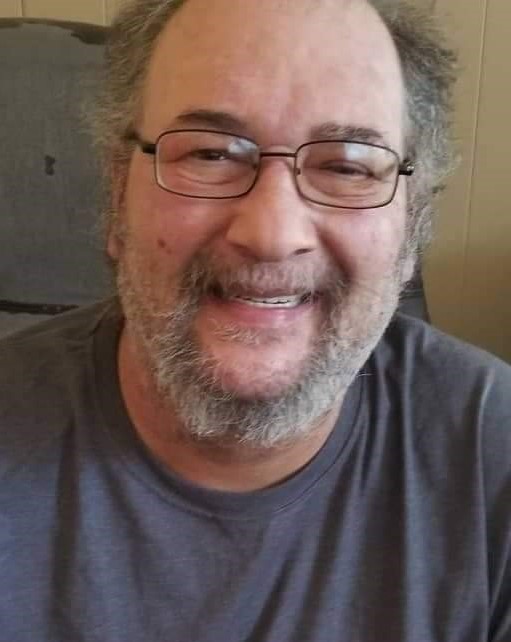 Michael Allen Schuh, Sr., of Milford, Indiana passed away at 3:58 p.m. on Wednesday, April 13, 2022 at Lutheran Hospital of Fort Wayne, Indiana at the age of 59.
He was born on October 27, 1962 in Plymouth, Indiana to Pauline (Lovely) Oswalt and Marvin Leroy Schuh.  On April 3, 1982 he married his best friend and love of his life, Charlotte Marie Webb.  They were blessed to share 40 years of marriage and during that time they raised their four children and experienced the joy of becoming grandparents, and finally a great-grandparent.
Michael was a lifetime resident of Kosciusko County, Indiana where he worked for many years as a welder at Bison Coach in Milford.  In his early years he could always be counted on to run the sound board for the R & W Brand Band.  He had a sharp mind, was great with his hands and was known for being able to fix anything!  Michael loved a good gathering and he was there and ready to party.  Michael enjoyed motorcycles and always got a kick out seeing them out on the road.  He was a bear of a man who expressed himself through his many tattoos and was never shy about telling people what they meant.  He LOVED to spend time outdoors hunting and fishing whenever he was able to but more than anything he loved to spend time with his family, friends and especially spending time with his wife, Charlotte.  He will forever be loved and missed by all that were fortunate to have known him.
He will be lovingly remembered by his wife, Charlotte Marie Schuh (Milford, Indiana); two sons, Michael (Brandi) Schuh, Jr. (Milford, Indiana); Ronnie Schuh (Warsaw, Indiana); two daughters:  Katherine Schuh (Mentone, Indiana) and Kayla Schuh (Warsaw, Indiana).  Also surviving are thirteen grandchildren, one great-grandchild, three brothers, Rick (Tammy) Schuh (Tippecanoe, Indiana); Tony (Christy) Schuh (Bourbon, Indiana); Steve (Kathy) Oswalt (Warsaw, Indiana); two sisters:  Wanda (Rex) Parrett (Larwill, Indiana) and Lori (Tracie) Quier (Palestine, Indiana).  He was preceded in death by his father, Marvin Schuh, mother and stepfather, Pauline and Larry Oswalt, grandson, Joshua Schuh and brother, Mark Oswalt.
Michael's life will be celebrated by his family at 1:00 p.m. on Sunday, April 24, 2022 in the Shrine Building at the Kosciusko County Fairgrounds, 1400 E Smith St, Warsaw, Indiana.  Arrangements were entrusted to Redpath-Fruth Funeral Home, 225 Argonne Road, Warsaw, Indiana.
Memorial donations may be directed to the family, c/o Charlotte Schuh, 205 S. West Street, Milford, Indiana  46542.
https://www.redpathfruthfuneralhome.com/obituary/Michael-SchuhSrOnline condolences may be sent through the funeral home's website at www.redpathfruthfuneralhome.com.