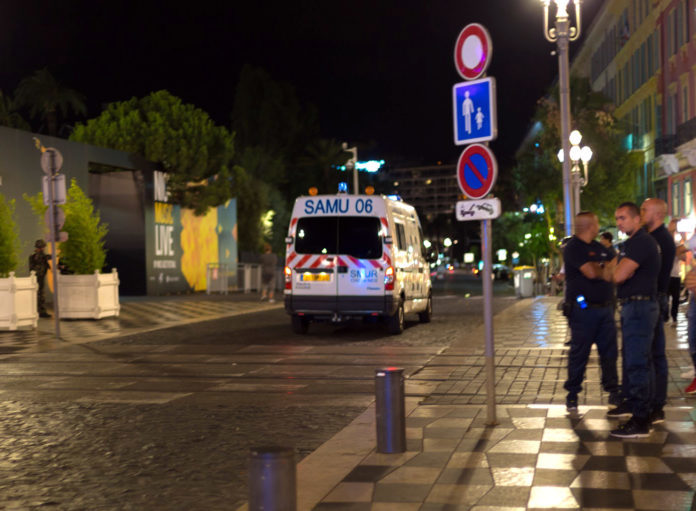 NICE, France (AP) — The Latest on a truck that drove into the crowd in Nice (all times local):
2:15 a.m.
U.S. President Barack Obama has condemned what he says "appears to be a horrific terrorist attack" in Nice.
Obama says, "Our thoughts and prayers are with the families and other loved-ones of those killed."
Noting that the attack occurred on Bastille Day, Obama praised "the extraordinary resilience and democratic values that have made France an inspiration to the entire world."
Obama is offering French officials "any assistance that they may need to investigate this attack and bring those responsible to justice."
France's ambassador to the United States, Gerard Araud, characterized the events in Nice as a "terrorist attack."
"Our democracies — France, the United States, our other partners , we are besieged, we face a terrible threat," Araud said at a Bastille Day reception at the French Embassy in Washington late Thursday.
___
2:05 a.m.
The ranking politician of the Alpes-Maritime department that includes Nice says the truck plowed into the crowd over a distance of two kilometers (more than a mile), killing 75 people and wounding 50.
Eric Ciotti said on BFM TV that police killed the driver "apparently after an exchange of gunfire."
The Paris prosecutor's office opened an investigation for "murder, attempted murder in an organized group linked to a terrorist enterprise." The probe is being handled by France's intelligence agency and judicial police.
___
1:45 a.m.
Writing online, Nice Matin journalist Damien Allemand who was at the waterside said the fireworks display had finished and the crowd had got up to leave when they heard a noise and cries.
"A fraction of a second later, an enormous white truck came along at a crazy speed, turning the wheel to mow down the maximum number of people," he said.
"I saw bodies flying like bowling pins along its route. Heard noises, cries that I will never forget."
Allemand said people took shelter in a nearby restaurant, where he continued to hear people shouting for missing family members. He ventured out and saw bodies, blood and body parts all along the road.
"This evening, it was horror," Allemand concluded.
___
1:20 a.m.
The president of the region that includes Nice says a truck that slammed into revelers celebrating Bastille Day on the city's waterfront was loaded with arms and grenades, and that the driver of the truck has now been killed by police.
Christian Estrosi told BFM TV that "the driver fired on the crowd, according to the police who killed him."
Estrosi said the truck was drivien by someone who appeared to have "completely premeditated behavior." He added that "the truck was loaded with arms, loaded with grenades."
___
1 a.m.
The head of the French department in which Nice is located says at least 60 people have died in what officials say was a deliberate attack when a truck drove into Bastille Day revelers in the resort city.
Eric Ciotti said on France Info radio that "It's a scene of horror." He said he was speaking from the scene.
The Nice prosecutor Jean-Michel Prette said bodies are strewn about along the roadway.
___
12:45 a.m.
A spokesman for France's Interior Ministry says there are likely to be "several dozen dead" after a truck drove into a crowd of revelers celebrating Bastille Day in the French city of Nice.
Pierre-Henry Brandet told BFM TV: "it's going to be a very high toll."
The president of the Nice regional council also gave a similar number.