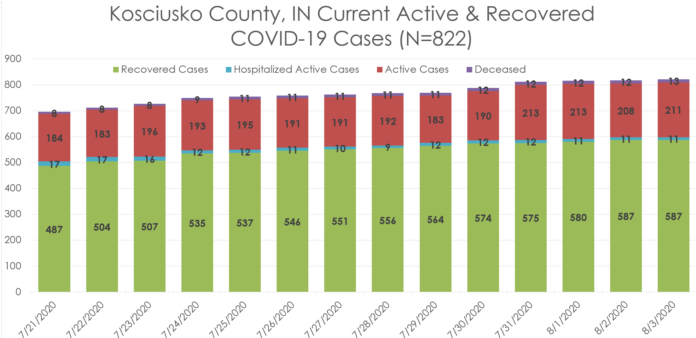 One additional death was reported from the coronavirus on Monday as the number of recoveries closes in on 600.
The Kosciusko County Health Department reported 30 new cases between last Thursday at noon and Monday at noon, bringing the total number of cases up to 822. The additional death brings the county death toll up to 13.
Of the 822 cases, 222 remain active including eleven hospitalizations. 587 people have now recovered from the virus.
In the past week, 61 new cases were reported, down 36 from the week before and are down for the first time in two weeks. Overall in July, 322 new cases were reported, down 25 from June.
ACROSS THE STATE
Indiana has surpassed 68,000 confirmed COVID-19 virus cases.
The state's health department says Monday that 582 additional people have been diagnosed with the disease, bringing Indiana's total to 68,433. Confirmed deaths due to complications from the virus are at 2,780.
Health officials say another 200 probable deaths have been reported based on clinical diagnoses in patients for whom no positive test is on record. More than 775,000 COVID-19 tests have been reported, statewide.