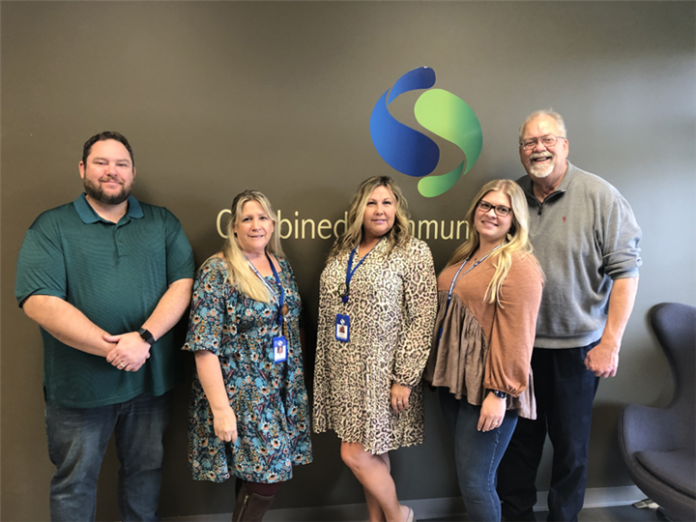 Thanksgiving is less than a month away, Christmas is less than two months away, and Combined Community Services staff on Wednesday discussed their plans to help those in need this holiday season.
"We have lots and lots happening this fall," said CCS Community Outreach Coordinator Kiira Churchill.
Adopt A Family
The first big event is the Adopt A Family program. Family sign-up day is 9 a.m. to noon Wednesday, Nov. 2 at CCS, 1195 Mariners Drive, Warsaw.
Director of Client Assistance Tim Frame said, "This is the Adopt A Family Christmas program for families in need with children. And, basically, they can qualify for this program as long as they weren't a participant last year. And then we just need to see identification of the parents and proof of guardianship of the children that they want to receive services for."
Frame said they are expecting over 100 families to be a part of the program again this year. In 2021, over 120 families signed up for the program.
"Once we do get to 100 families, the folks that are still here, we'll put them on a waiting list," Frame said.
Churchill said the more sponsors the program gets – whether that's individuals, families, businesses, clubs, civic groups or schools – the more families that can be supported.
"If they want to adopt a family, the more we have, the more families we can support through that program," she said.
Frame said they are "definitely looking for folks who would like to adopt a family and be a sponsor for a family, absolutely. They can just call our office and we can get them set up to do that," or they can go online now to sign up to sponsor a family.
The phone number is 574-269-6019 and the website is CCSgives.com.
"Or, after (Nov. 2), they can come on in the office and go through the applications and choose a family that they would like to support this season," Churchill said.
While Frame was uncertain how long CCS has been offering the Adopt A Family program, he said it's been at least since the early 2000s because his church adopted a family back in 2004-05 when CCS was at the Prairie Street location.
Anyone wanting to adopt a family can do that right away online, Frame stated. Churchill said they can come into the office anytime after Nov. 2 to adopt a family.
When a family comes in to fill out the application for Adopt A Family, Frame said, "We will sit with them one-on-one and help them fill out the application. We get the sizes of the shoes and clothes for the children, and then like the children's interests. We do explain to the parents as well don't put like very expensive items on there. We'd hate for you to ask for a brand new TV or XBox and then not get adopted."
He said the "rule of thumb" he usually suggests is to keep it around $50 or less per item that they are asking for a child so as to not scare off donors.
Churchill said what is neat is that each sponsor and each family can decide how they want to do it. Frame said they give the donors the option of if they want to deliver the gifts to the homes. "Some folks don't like to do that, some of the Adopt A Family folks don't want people to come to their homes, so we'll just have them bring them here. These details we'll share with folks as they sign up," he said.
With inflation this year and talk of an impending recession, Frame said he expects a lot of families to sign up this year.
"If the trend is going to continue over with this compared to what's going on in the food pantry, one number that I just recently discovered is that we have over 100 new families in the last three months. These are folks we've never served before … at least within the last five years," Frame said.
CCS Executive Director Randy Polston said CCS "is setting records in the food pantry of pre-pandemic records. And it's inflation. People have to make a choice: 'Do I put gas in the car, do I go buy some food? Well, I'll go to the food pantry because that way I can put gas in the car.' It's been nonstop out here."
Frame said CCS now is consistently averaging over 600 families a month.
"And we're down to one food order per month per household," Churchill said.
Frame said that was correct, but any time a family comes for additional food CCS is able to continue to give them what are called commodities such as canned food goods and USDA foods.
"We never turn anybody away," Polston said.
Frame said they've had folks come two or three times a month stop in and receive canned food goods.
"The same with utilities (assistance)," he said. "In August, we already surpassed our total budget from last year with utility assistance. We haven't even gotten to the serious heating months and we've already surpassed our budget. We are still continuing to serve those folks, even though we've gone past our budget."
"We have to do what we have to do," Polston said.
Frame said last year CCS gave out about $22,000 and they passed that amount by August. Churchill said they're over $26,000 so far this year in utility assistance.
Other Upcoming Events:
Food-A-Thon
The Food-A-Thon is Nov. 11-12.
Kensington Media Group (WRSW) is partnering with CCS on the Food-A-Thon and will be live at CCS on Mariners Drive. Folks will be able to stop by CCS to make donations, but there also will be volunteers on site at participating grocery stores to accept donations as well. (More information on the Food-A-Thon will be published Nov. 5.)
Turkey Lurkey 5K Run/Walk
To cover CCS's operational needs, CCS will be holding their annual Turkey Lurkey 5K Run/Walk on Nov. 19 in Winona Lake. The race start time is at 10 a.m.
The event will be timed by the Kosciusko County Runners Association.
People can register online now at runsignup.com. All the information, including sponsorship opportunities, is on the CCS website. (More information on the 5K will be published Nov. 12.)
Toy Time
Ami Pitt, CCS Project Independence and Hand-Up case manager, said drop-off for the 29th annual Toy Time is Dec. 12-15. Hours are 9 a.m. to 7 p.m. at the Home & Family Arts Building at the county fairgrounds.
"That's the drop-off of good, quality, playable used toys so clean out those toy boxes and bring us everything you're done playing with," she said. "You don't have to do anything to them, except make sure they're clean. We do all the processing, so we will tag them. It's a 50-50 split of what sells. If you choose to give your 50%, too, we just love you more."
It is a consignment sale, but people can choose to donate their proceeds from their toys that sell.
On Dec. 17-18, "is one awesome toy sale. It is like a garage sale of 150 families with nothing but children's items," she said.
Hours are 9 a.m. to 7 p.m. Dec. 17 and 9 a.m. to 3 p.m. Dec. 18.
The toy giveaway will be 9 a.m. to 7 p.m. Dec. 20 and 9 a.m. to 3 p.m. Dec. 21.
With the money CCS makes from the consignment sale, 100% of that goes to purchase new toys. "We put those with Toys for Tots toys and then ABATE brings us baby and teen items and bicycles. And all of those entities working together, cover all of our kids for Christmas," she said, noting it's usually around 1,700 children.
Donations of new or used Bibles also will be accepted.
(More information on Toy Time will be published Nov. 19.)
Polston said, "When you look at Combined Community Services, the team here is family and we all come together, whether it's June, whether it's November, whatever time of year it is, we know what we're approaching but we know that this is exactly what we're about and being Christ's hands and feet in our community to impact lives, whether it's a Turkey Lurkey Run, whether it's a Toy Time event, whether it's Adopt-A-Family … we're blessed because this gives us the opportunity to impact lives in our community, and I couldn't ask for a better team here at CCS to keep this thing going, to make a difference in so many lives."