(UPDATE – 9:09 AM) Kinsley Rose Potts has been found safe according to reports from WIBC in Indianapolis.
===============================================
The Hendricks County Sheriff's Department has requested the activation of an AMBER Alert from Plainfield, Indiana which is 18.5 miles southwest of Indianapolis.
The victim, Kinsley Rose Potts, is a 5 month old white female, 1 foot tall, 20 pounds, brown hair with hazel eyes, and last seen wearing a onesie.  Kinsley was last seen on Thursday, September 17, 2020, at 6:29 am in Plainfield, Indiana and is believed to be in extreme danger.
The suspect, is a unknown white male with gray beard last seen wearing, a white shirt and driving a white 2014 Chevrolet Silverado bearing Indiana plate DPC803.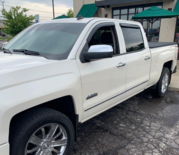 If you have any information on this incident, contact the Hendricks County Sheriff's Department  at 317-839-8700 or 911.