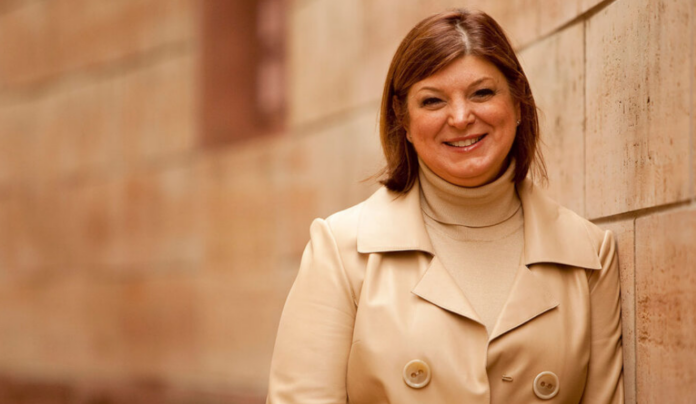 By Casey Smith
Indiana Capital Chronicle
INDIANAPOLIS — The Indiana Republican State Committee on Thursday unanimously elected consultant Anne Hathaway as the party's next chair, making her the first woman to run the Indiana Republican Party.
Current head Kyle Hupfer said earlier this month that he's stepping down once his successor's in place.
"I want to thank Kyle Hupfer for his outstanding leadership over the years and the members of the state committee for putting their trust in me to continue moving our party forward," Hathaway said in a statement.
"We have an incredible opportunity to do just that by helping elect even more Republicans in cities and towns across the state this November, and that will be our top priority over these next two months," she continued. "At the same time, we will continue to engage our grassroots supporters and prepare to do our part in making Joe Biden a one-term president, sending Jim Banks to the U.S. Senate, and electing another Republican to the governor's office."
Hathaway is president and CEO of Indianapolis-based Hathaway Strategies, a public affairs consulting firm. She's also executive director of the Richard G. Lugar Excellence in Public Service Series, which seeks to increase the influence of Republican women in politics and governance.
She has long maintained deep involvement in Republican politics.
Hathaway is additionally a member of the Indiana Republican Party's central committee and has served as Indiana's national committeewoman to the Republican National Committee since 2018. That year, Holcomb recommended her and the state central committee elected her to the role.
Currently, she's leading the national committee charged with running the 2024 Republican National Convention in Milwaukee, according to the Milwaukee Journal Sentinel.
Previously Hathaway was a scheduling director and public liaison — as well as an assistant — for Vice President Dan Quayle and an assistant at the U.S. Treasury Department. She was also a member of Holcomb's own transition team when he took office as governor.
"I applaud the state committee for their fantastic selection of Anne Hathaway to lead our party," Hupfer said in a statement. "Anne is a long-time friend, an incredible grassroots leader, and one of the best political minds in the country. I know that under her leadership, the Indiana Republican Party will be in good hands."
Indiana Gov. Eric Holcomb nominated Hathaway as the state GOP chief last week. He said in a statement Thursday that his top pick "has a distinguished career serving the Republican Party at the local, state, and national levels."
"Her knowledge, relationships, and ability to connect with and bring folks together to advance a common cause will prove invaluable as we work to elect even more Republicans across the state," Holcomb said. "I'm excited to see her get to work."
The Indiana Capital Chronicle is an independent, nonprofit news organization dedicated to giving Hoosiers a comprehensive look inside state government, policy and elections. The site combines daily coverage with in-depth scrutiny, political awareness and insightful commentary.
You can read the original version of the story here.