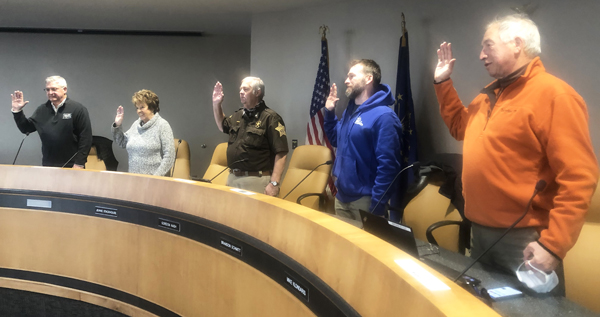 The next chief for the Warsaw-Wayne Fire Territory is coming from Arizona.
During the Warsaw-Wayne Township Fire Protection Territory Board meeting Monday, the Board had to confirm the appointment of current Fire Chief Michael Wilson "until a successor is appointed." The fire chief is appointed annually to the position.
Mayor Joe Thallemer said, "We are this close to naming our successor. The successor has been selected and has come and visited with the fire territory. He is working through a lot of the paperwork, the pension physicals and the assessments that are all a part of this. We know that there will be some relocation involved and probably won't be here until sometime in mid February."
He said the man's name was Garrett Holderman and is from the Rural Metro Fire Department in Arizona.
"He's got quite a list of resumé as far as experience," Thallemer said. "I'll hold back much more in detail until we officially make him and officially appoint him at our next meeting."
He asked the Board to approve the appointment of Wilson as chief for another year, and the Board did so. Wilson is retiring June 1.
"And then at the appropriate time, we will come back and make the formal announcement and we will have to take a similar vote to name (Holderman) the chief," Thallemer said.
After the meeting, Wilson said a community meet-and-greet will be held for Holderman in March. He said Holderman is a "really nice" guy and all the guys really liked him. His wife is from the Carmel, Ind., area.
The Board also reappointed Shirley Fetrow as recording secretary and Andrew Grossnickle as the Fire Territory attorney during the meeting.
The Fire Territory Board members also took their oaths of office, given by Grossnickle.
Wilson gave the monthly fire activity report. There were 238 calls in November, with 65 fire-related incidents and 173 were medical or rescue related. Damage amount totaled only $3,000. Warsaw assisted three other agencies in November – Winona Lake, Leesburg and Syracuse.
In her monthly report, Alicia Elder, Lutheran EMS, said, "So this month, as you guys will see, we were pretty consistent with how we've seen things lately in November. One thing we ran into significantly in November, and it's carried through in December and January, is the number of hospitals that are currently on diversion. Unfortunately, it's something we're dealing with on an everyday basis."
Over the weekend, she said, they had three hospitals within a tri-county area that were all on diversion at the same time.
"The unfortunate standpoint of that is that some of our residents are being taken outside of their normal area," Elder said, adding that if they "doctor with a Lutheran Health physician, they may be taken to a Parkview facility, they may be taken to a Beacon Health facility. Unfortunately, it's not just here. The entire state is dealing with that."
Fire Territory EMS Chief Chris Fancil presented the Zoll Expertcare Preventative Maintenance agreement for Zoll to perform preventative maintenance on the Zoll X-Series cardiac monitors.
A K21 Health Foundation grant in 2020 purchased the $35,000 monitors for Turkey Creek Fire Territory, North Webster Fire/EMS and Warsaw-Wayne Fire Territory.
The cost of the agreement is $1,020. The Board approved the contract.
Fancil then presented the 2022 Naloxone Rescue Kit grant, which the Warsaw Board of Public Works and Safety approved Friday. He said this is the fourth time they applied for it, and it's used for narcotic overdoses.
"Recently, the last few days, they've decided that opioid overdoses are the number one killer now between 18 and 45 years old in the United States," Fancil said.
The Fire Territory gets 300 doses of NARCAN and distributes them to the emergency service agencies in the county.
"It's no cost to us," he said.
Two days after applying for the grant, they were awarded it, Fancil said.
The Fire Territory Board approved receiving the NARCAN.
Councilman Mike Klondaris asked how long it would take to go through 300 doses and how bad of a problem was it.
"I think we go through that about every year," Fancil replied. He said he was down to 10 doses total.
The NARCAN does expire over time, and they get 150 doses twice a year.
"We do, basically, try to saturate as many fire departments, and as many police officers, and as many confinement officers and the home detention folks. We try to give it to anybody that we can within that realm that can make a difference," Fancil said. "I don't remember what the numbers were, but we have actually given probably 100 doses this year and the rest have just been to saturate the area."
The NARCAN not only can help the patients, but also for the police, firefighters and EMS who come in contact with the substance. They can actually accidentally overdose just by coming in contact with it.
"What we've found is, they are mixing so many different drugs now. We had a thing for a while that they were mixing meth with fentanyl so the NARCAN would wake them up and then they would become combative and have that to deal with after the opioid is out of their system, and then the meth makes them agitated and violent," Fancil said. "It's worse than I've ever seen. This is just trying to get more NARCAN out into the community and being able to respond to it in a faster way."
Finally, the Fire Territory Board approved for the Fire Territory to be a part of a consortium to apply for a federal $1 million grant over three years under the Federal Office of Rural Health Policy. Members of the consortium include Bowen Center, K21 Health Foundation, Live Well Kosciusko, Fellowship Missions and the city of Warsaw. The Board of Works approved for the Fire Territory to be a part of the grant application on Friday.