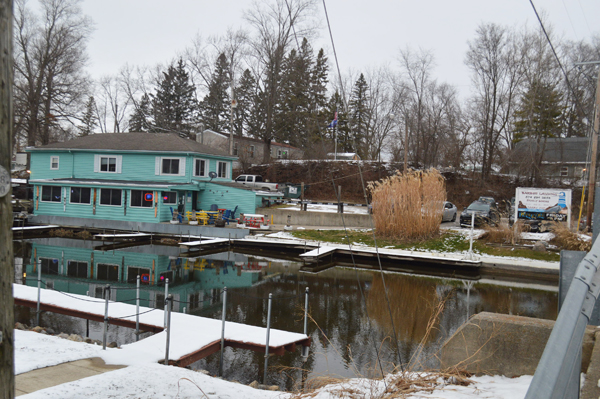 The Indiana Alcohol and Tobacco Commission voted Wednesday to uphold Kosciusko County's recommendation to deny Barbee Landing's liquor license renewal.
State ATC Chairman David Cook said the vote was unanimous in upholding the county's recommendation to deny the permit renewal. Barbee Landing owner Joel Stein now has 15 days to request an appeal.
The Barbee Landing, 3687 N. Barbee Road, Warsaw, was hit with several violations after Ty Brown, a 20-year-old visiting the area for Labor Day weekend in 2019, was served alcohol at the establishment, left on foot and was then found dead alongside McKenna Road at 4:50 a.m. Sept. 2, 2019.
A police investigation determined that Brown had left Barbee Landing on foot that evening and ruled his death as accidental, saying Brown fell and hit his head, causing bleeding on the brain. Toxicology results showed alcohol in Brown's system, with his BAC at 0.21. Brown was from Indianapolis and a junior at Butler University.
The violations included allowing a minor to loiter, sale of an alcoholic beverage to a minor, sale of an alcoholic beverage to an intoxicated person, premise and employees failing to maintain a high and fine reputation, and public nuisance.
Stein struck an agreement with prosecutors to plead guilty to the violations of allowing a minor to loiter, sale of an alcoholic beverage to a minor, and premise and employees failing to maintain a high and fine reputation. That resulted in the business being fined $1,000 and being suspended from serving for five days, according to the document.
On Jan. 7, the Kosciusko County ATC board recommended the renewal be denied after hearing for nearly an hour from remonstrators who were related to or were friends with Brown.
Stein maintained his business paid the fine they were charged with and that his bartender that night simply did not recognize Brown's identification was fake.
Brown's family contends Brown was never in fact asked for identification and that he was overserved.
"I am sorry for your loss, but that doesn't mean I caused it," Stein said at the local meeting Jan. 7, adding that the Barbee Landing has been in operation for 40 years on the lake. "This was our 11th summer of operating the Barbee Landing. This is a very unusual event, very tragic event, it is not something to suggest that because this happened we are some sort of establishment like the last remonstrator described. We don't have people in and out with fake IDs. … That is not the situation. … Unfortunately, he presented an ID that my bartender thought was legitimate."
What this means for the future of Barbee Landing is unclear. Attempts to reach Stein at his restaurant and through email were unsuccessful, and he has not indicated if he plans to appeal.
County excise officer April Tackett said if Stein appeals, then he, along with the remonstrators, would be able to participate in that process, unlike the Wednesday hearing by state commissioners.
"It happens more than you think," Tackett said of cases being denied and upheld at the state level. "As long as the local board goes by the law and the procedures and the rules, they don't usually get overturned."