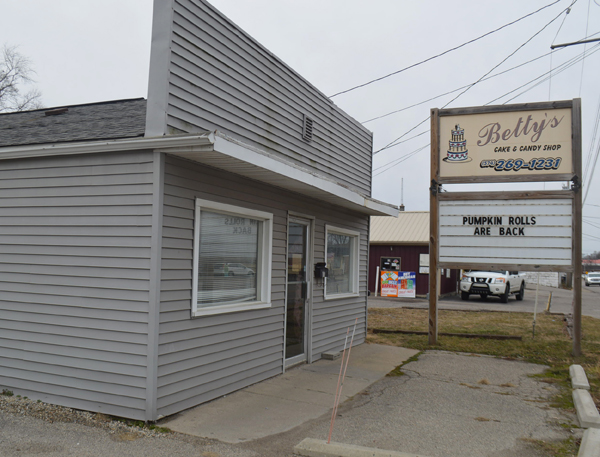 On the last day Betty's Cake & Candy Shop was open, Dec. 23, owner Heather McGuire said besides the 75 orders they filled for pick-up, they also sold 28 dozen sugar cookies for cash-and-carry, 17 dozen cupcakes and 12 pumpkin rolls.
"I know that because that's the exact stuff we made for extra and we basically sold out that day. So not only did we have our orders, but we did have a lot of foot traffic. That was great. We had hoped we would have the foot traffic for the holidays, and we did," McGuire said in an interview Tuesday at the business, 816 E. Winona Ave., Warsaw.
"I feel we're going out of business supported, as much as we can. I feel our customers – although maybe sad and hurt by the fact that we are going out of business – I think that they all understand what the pandemic has done and how we have been hit."
On Wednesday, Dec. 30, Betty's will have a store closing inventory sale beginning at 9 a.m. The sale will include all inventory and shop use items discounted "drastically," according to a post Sunday on Betty's Facebook page. McGuire said once all the shop stuff is sold, the building and property will be listed with a local realtor.
The original owner of Betty's was Betty Smith. McGuire said Smith started the business, from as far as they can tell, about 47 years ago. After Smith sold the business to her brother, Don Earl, he and his wife ran it for a number of years.
In 2005, McGuire started working part-time for them. Shortly after that, there were some health issues in their family and they could no longer run Betty's as the family business as they had.
"So, they wanted it to still stay a family business, so that's when our family stepped in and we had the opportunity to purchase it from them. And we've been doing that ever since 2006," said McGuire, who co-owned it with her mom, Barb Cowan.
To her knowledge, McGuire said the location on Winona Avenue was where Smith originally started her business.
"The 47 years seems to be, in all the paperwork, that was gauged on when Betty got her business license and then she sold it to them and they sold it to us. It's always been a family-owned and -ran business, and it's only ever been in two different families," she said.
The business has always offered cakes, cupcakes and cookies. McGuire said over the years they expanded the menu to include other desserts like cheesecakes, brownies, cookie bars and more elaborate custom items than previously offered.
McGuire estimated that about 60% of the business's customers has "multi-generational customers where we did their parents' wedding cake, and then we've always done their kids' birthday cakes. So a lot of our business over the years has been attributed to those return generational customers."
She also estimated 30% of their business in the area was from corporations for retirement parties, open houses and employee appreciation events. Some of their larger corporate accounts included Lake City Bank, LSC Communications, Zimmer Biomet and Dalton Foundries.
"Those are just a few of our larger corporate accounts that when COVID hit, they weren't allowed to have their get-togethers and their retirements and that kind of thing. So that pretty much took 30% of our business right off the top," she said.
The other 10% of their business was walk-in foot traffic – people who wanted to grab some cupcakes for the weekend or pick up some cookies.
"With nobody being able to do the carry-in type items and stuff anymore, it's just kind of all dwindled slowly to basically about nothing," McGuire said.
She said they were very fortunate to have people ordering for the Thanksgiving holiday and Christmas items. "But now there are no corporate events going on, there aren't big weddings going on, kids can't bring treats to school for their birthdays and nobody is having birthday parties and showers. When people can't get together, people don't order cakes, typically," she said.
In September, she said they reached out to a few different people they thought might be interested in the business. That month, McGuire's business partner and mom, Barb Cowan, also retired and McGuire didn't want to continue operating Betty's on her own. McGuire said she wasn't prepared to take on the business on her own and the economy hasn't been supportive of the business like it had been for the last approximately 15 years.
"What's next for me, I don't know," she said, adding that she wouldn't even consider baking and running a bakery from her home.
She said they will miss all of their customers, who they've gotten to know and who have gotten to know the staff of Betty's.
McGuire closed the business with three "great employees": cake decorators Crystal Gunther and Nicki Palmer and bakery manager Stephanie Cowan. All were full-time.
Stephanie, who has worked at Betty's for 13 years, said, this year has "definitely been slower than in years past, just due to the pandemic that we are all facing right now."
She said she's always enjoyed working with the staff they've had and her bosses – her sister and her mother.
"As far as family-owned businesses, Betty's is the epitome of family-owned businesses. Not only do we know each other on a very personal level, but we know people's families and extended families. As a small, local business, that carries over into our customers, too. As far as knowing their families, who is getting married, who is having babies, who is having an anniversary, that type of thing. You really get to know your customers," Stephanie said.
She didn't have any plans now that the business is closing, but was sure she'd find something.
McGuire concluded the interview by stating, "I feel like we did everything we could to keep the business going during the pandemic, but with it being such an unstable economy, we understand that people aren't having big parties. We don't blame any of our corporate customers or generational customers or even the walk-in foot traffic. I think we're a product of what this pandemic has done."