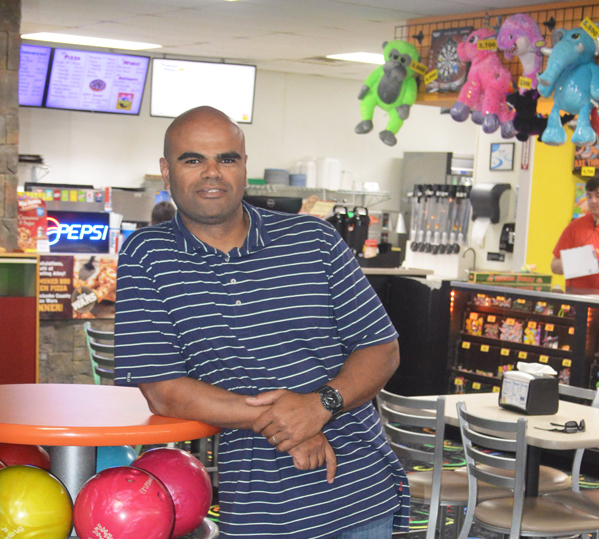 While the pandemic kept Bowling Against Bullying from happening in 2020, it's back this year and organizer Kosciusko County Sheriff's Office deputy Shaun Mudd hopes it'll be the biggest yet.
The fourth annual Bowling Against Bullying is a free community event to raise awareness about bullying. It is noon to 2 p.m. Saturday, Aug. 7 at The Bowling Alley, 1535 N. Detroit St., Warsaw, and includes free bowling, food, prizes and fun.
There will be a free kid's raffle with prizes. The adult raffle for prizes will be $1 per ticket or $20 for 25 tickets. There is no registration required.
"This year has been the biggest," Mudd said.
He said American Outdoor gave a gift basket with some seasonings and other items for the event. Polywood, Syracuse, provides a chair valued at around $300 every year. Lowe's provided a smoker with all the accessories. A realtor company gave a Yeti cooler. Loose Moose also provided a cooler, as well as hats, T-shirts, cups and other stuff. There will be more bicycles this year, he said.
"There's never a kid that doesn't go home with something. I'm looking forward to it. I believe it'll be the biggest one," Mudd said.
Angelina's Cigars provided some items, while a Syracuse tattoo parlor gave two hours of work, valued at about $300.
"There's just a lot of stuff. Really looking forward to it. I hope it's big," Mudd said.
He said he would like to get some mental health professionals involved in Bowling Against Bullying.
"There's kids out there struggling, getting bullied," Mudd said. "The saying goes, 'Hurt people hurt people.' There's a lot of hurt kids out there. They may turn and hurt somebody else." Any time he can reach out to those kids and help them hang in there, he said he does.
Bowling Against Bullying started because there was an autistic kid at one of the schools in the county being bullied about five years ago. Mudd saw a post about it on Facebook and reached out to others, and the kid's mother, to have lunch with the bullied child at his school on a Monday. The mom thought it was a great idea.
However, that Sunday night, the mom received an email from school officials telling her they don't allow people to come have lunch at the school with students.
Mudd still wanted to do something for the kid, so he asked the mom if her son liked bowling. She said he did.
"Around that time, we kind of had a few suicides. Kids dying, and come to find out, they were being bullied and stuff. So I was like, 'Let's have one big bowling party.' And it was meant to be a one-time thing," Mudd said.
He had door prizes, and a friend who paid for the food and lanes.
"I never thought it would be anything more than a one-time deal," Mudd said. "And here we are now."
After the first year, a woman gave Mudd $20 or $40 to help with the following year, and he knew he had to do it again.
Now, he's looking at maybe turning it into a 501(c)3 organization, but he's not sure because of all the work involved in forming one.
"It's been good. People donate money," he said.
With the monetary donations, Mudd will go out to Walmart on the Friday before the event to buy toys for all age ranges. It's one of his favorite days.
"Hopefully, we'll have a lot of bikes this year. Hopefully," he said.
Helping Mudd organize the event every year are Joanna Eccles, Paul Nowak and Holly Hummitch.
"It really wouldn't be possible without them," he said. Nowak made the flyer for the event and helped get donations, and Eccles has gotten a lot of the donations.
Mudd also gave credit to Jason Ellis, with Edward Jones Investments, and Jeremy Makinson, with Sterling Contracting. They're the ones paying for the bowling lanes and food so that nothing costs anyone to participate.
"You will leave better than you arrived," he said.
According to an Aug. 1, 2019, Times-Union article about the third annual event, about 80 to 100 kids and adults attended the first year and 100 to 120 attended in the second year. Mudd said in 2019, he was disappointed with the number of people who showed up.
"But I don't think I'll be disappointed this year," he said.
If anyone wants to help out, they can contact him through email at shaunmudd55@gmail.com.
"I'm really looking forward to this year. I think it will be a good time," he said. "I just want to make it bigger and better. That's another thing. If anyone can contribute in that way – as far as counselors or anybody that deals with counseling children and stuff like that – (contact me)."