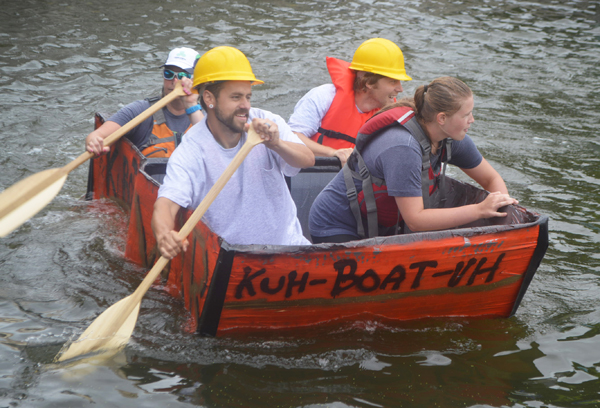 WINONA LAKE – Shop, eat and play at The Village at Winona during "Canal Days" Saturday.
Nick Hauck, managing director of The Village, said the event morphed over the years from sidewalk sales to include arts and crafts booths, and then he had the idea to add the regatta cardboard boat race.
The arts and craft booths will be open from 10 a.m. to 6 p.m. Saturday.
Kids' activities will be from 11 a.m. to 2 p.m. Spoonful of Imagination will be under the pavilion on the brick sidewalk.
There also will be food vendors.
While the regatta is a small fundraiser for Fellowship Missions, the purpose of it is to bring awareness of Fellowship Missions, he said.
The three programs of Fellowship Missions are designed to meet the basic needs of those struggling with homelessness or addiction so they can focus on overcoming the challenges that contributed to their circumstances, according to the Fellowship Missions website. The three programs are an addiction recovery hub, a catalyst program and an emergency shelter. For more information on Fellowship Missions, visit the website at fellowshipmissions.net.
Day-of registration for the boat race is 10 to 11 a.m., though Hauck said many have already preregistered. Online registration deadline is Friday. The race is rain or shine, but will be delayed in case of lightning.
Team categories are kids, youth, adult and corporate.
The cardboard boats need to be at the lineup at 11 a.m. for judging. The public will be able to judge the boats for "Best of Show" from 11 a.m. to 12:30 p.m. when the race begins. While each person can get one free ticket to vote for their favorite boat, additional tickets are $1, and there is no limit to how many tickets a person can purchase. Hauck said last year a grandfather bought $100 in tickets to vote for his grandchild.
For more information about Canal Days, or to register a cardboard boat for the race, visit the website at https://villageatwinona.com/events/canal-days/.