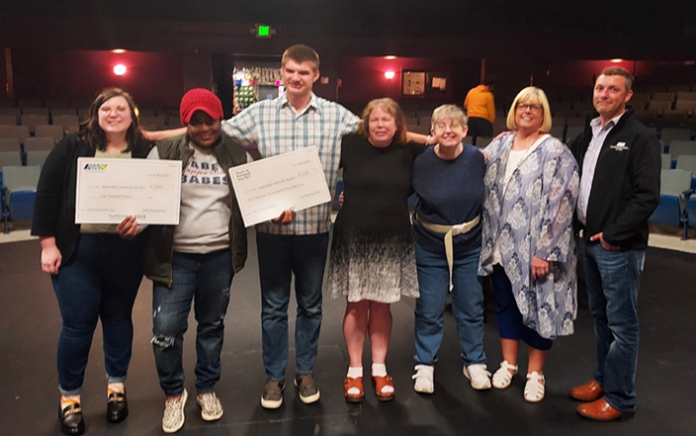 By Jackie Gorski
Times-Union
WARSAW — The AWS Foundation and Cardinal Services Self-Advocates surprised four area nonprofits with checks during its Pay It Forward Day Friday.
Checks of $1,250 were given to the Kosciusko Community Senior Services, Wagon Wheel Center for the Arts, The Magical Meadows; and the Animal Welfare League of Kosciusko County.
When presented with the $1,250 check from Cardinal Services Self-Advocates, the Wagon Wheel was the only one of the four nonprofits to receive a matching check of $1,000 from the AWS Foundation.
When asked why the Wagon Wheel was chosen for the matching grant, Andie Mosley, AWS grant and outreach coordinator, said the Wagon Wheel has been very interested in reaching out to those with disabilities. They've just started putting on plays for those with sensory disabilities, among other things.
When presented with the checks, Lakesha Green, executive director of the Wagon Wheel of the Arts, said when she was contacted about Cardinal Services wanting to bring the Wagon Wheel something, she was expecting something like cookies or candy. She said the checks were even better than sugar. She said it is amazing.
"This is a very big deal," Green said. "I'm speechless."
She said she wants the partnership with Cardinal Services to grow even more. One of the things she said she wanted to bring with her to the Wagon Wheel is accessibility.
This is the first year Cardinal Services has participated in Pay It Forward Day. Cardinal Services Executive Director Vickie Lootens said AWS came up with the Pay It Forward Day.
Cardinal Services Self-Advocates had $5,000 they got for grants from the AWS Foundation and they chose what other nonprofits got the money, she said. There was a vote on which nonprofits the money went to. The Self-Advocates chose the Kosciusko Community Senior Center, the Wagon Wheel Center for the Arts, The Magical Meadows and AWL. The money was split evenly, Lootens said.
"And so, today, on Pay It Forward Day, we're going around surprising" the four nonprofits with the checks, Lootens said. "It is a great opportunity" to give back to the community.
There are many wonderful nonprofits in the area, she said, and they count on community support and they're all vital in the community.
Lootens said, during the Pay It Forward Day, the Cardinal Services Self-Advocates are learning to give back. Like any other person, they have an interest in giving back.
"I think they're very excited," Lootens said.
Lootens said the Pay It Forward Day is definitely something they need to continue with and Cardinal Services and Self-Advocates thinks it's a very important thing for them to give back to the community.