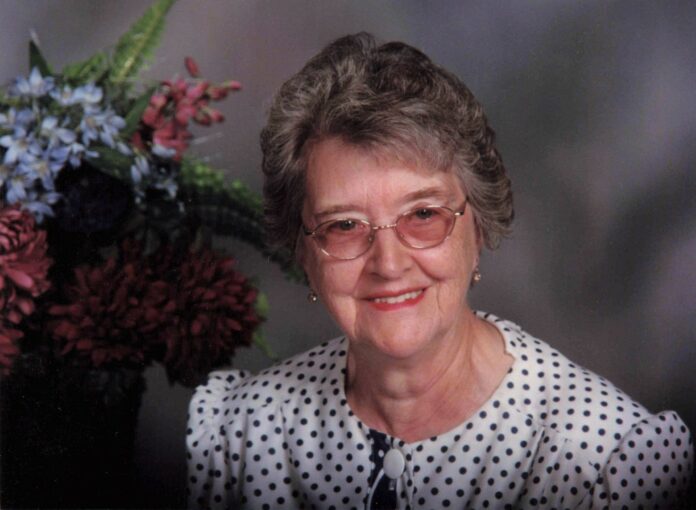 Carol Baugher, of Tippecanoe, passed away quietly at Parkview Randallia on Monday December 27, 2021, at the age of 97.
Born in Mentone on January 10, 1924, she was the daughter of Joseph and Sarah Blackford. Carol was one of fifteen children. She was a 1942 graduate of Tippecanoe High School. As a hardworking woman, she worked at Sun Metal Products for 21 years and later worked at Pizza Hut in Rochester.
On November 9, 1942, Carol married Donald Eugene Baugher, who preceded her in death in March of 1987, and together they raised their three sons. Carol's family came first in her eyes. She did everything she could to support her sons and make sure they were taken care of. On Mondays, the boys came to her house for lunch. She also enjoyed time spent with her siblings. Carol was an avid reader and a great seamstress. She also loved to paint.
Carol is survived by her two sons, Calvin (Kathy) Baugher of Warsaw and Randy (Laura) Baugher of Rochester; daughter in law, Angie Baugher; 14 grandchildren; 22 great grandchildren; 2 great-great grandchildren; and sisters, Vi, Helen, Sara, Nancy, and Rose. She is further survived by many extended family members and friends. She is preceded in death by her parents; husband, Donald; son, Donald Jr; infant son, Melvin; grandsons, Eric and Jim; and numerous siblings.
A Life Celebration® is entrusted to Titus Funeral Home and Cremation Services, 2000 East Sheridan Street, Warsaw. Friends and family may gather for visitation on Thursday, January 6, 2021, from 11:00 AM to 1:00 PM at Titus Funeral Home. The funeral service will begin at 1:00 PM with Pastor Larrie Kreft officiating. Burial will immediately follow at Oakwood Cemetery in Warsaw.
To make a donation in memory of Carol, memorial gifts are appreciated to the Gideons, P.O. Box 766
Winona Lake, IN 46590. To leave a written online condolence or to send flowers please visit: www.TitusFuneralHome.com