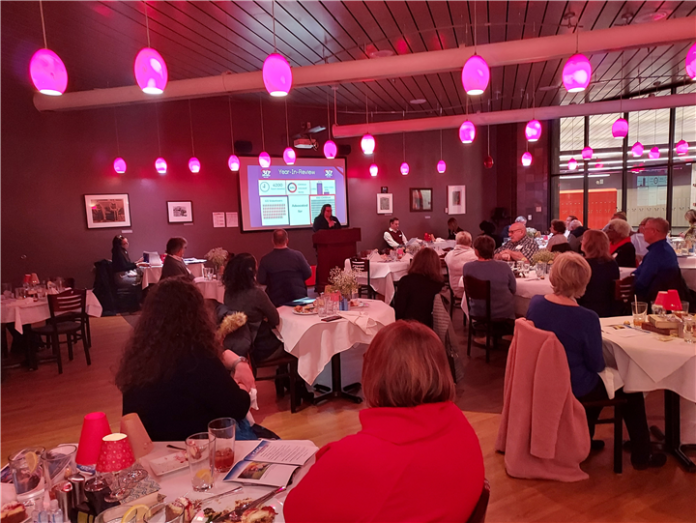 During the CASA of Kosciusko County annual luncheon Friday, attendees were told what CASA did in 2021 and its plans for the future.
In 2021, the local Department of Child Services assessed 2,086 cases of reported abuse or neglect, down about 7.5% from 2020, Erin Rowland Jones, CASA of Kosciusko County executive director, said during the luncheon at the Blue Apron restaurant at Warsaw Community High School.
Rowland Jones said of the 2,086 cases of reported abuse or neglect in 2021 in Kosciusko County, 166 were substantiated, which means some sort of abuse or neglect likely occurred. Of those substantiated, 56 were severe enough to require the intervention of the court system, resulting in the children being deemed a child in need of services (CHINS).
The number of CHINS was the same in 2020 and 2021 at 56.
In 2021, 68 active volunteers "provided a voice for a total of 198 abused and neglected children in our community." Of those, 164 suffered substantiated abused or neglect. There were 34 additional children that "were caught in volatile parenting time or custody disputes between family members," she said.
The good news for 2021 was that 75 CHINS cases were closed. Thirteen of those children were adopted. Fourteen were placed with a guardian or third-party custodian and "48 were returned safely to their families. That means 64% of those 75 cases were closed. Those children were reunified with a parent and safely returned home," she said.
Rowland Jones also talked about the CASA volunteers.
The 68 volunteers provided over 4,200 hours of advocacy.
"That's amazing. And they had face-to-face or virtual contact with the children they were advocating for 685 times in 2021 and they filed more than 115 reports with the court. And those are difficult reports, so they did a lot of work last year," Rowland Jones said.
While CASA didn't have a wait list for 2021 for volunteers for CHINS cases, "we do not and have not had enough volunteers to provide a voice for all the children in custody or visitation disputes the judges would like CASA on. Often, not rising to abuse or neglect that would be substantiated by the Department of Child Services, these volatile family law cases may have safety concerns for the children involved, which is why the judges would often like to have a CASA on these cases," she said.
In 2021, three pre-service CASA trainings were performed where 12 new volunteers were trained and sworn in.
"Our dedicated volunteers are essential to the service we provide. Without them, these children would not have a voice," Rowland Jones said.
The CASAs are best-interest advocates, which mean they advocate for the best interest of the children they are serving.
The luncheon also looked forward to 2022.
CASA has not seen a decline in its volunteers, but would like to see a larger training classes in 2022, Rowland Jones said. The first training class will be Feb. 22.
Rowland Jones said there will be a pinwheel garden and community march against child abuse April 13.
Janelle Meyer, program manager at CASA of Kosciusko County, said CASA will be celebrating 30 years of advocacy in 2022. To celebrate, there will be a magazine coming out.
"So we're excited about that," Meyer said.
There also will be a fundraiser where CASA will attempt to raise $30,000 in 30 days in June, Meyer said.
Meyer said CASA doesn't want to stop with 30 years. They want to keep going and growing. They have some people sponsoring that "are excited" to match funds during that fundraiser, so if CASA can raise $15,000, that will be matched for the $30,000. There will be more information coming out about that.
In 2021, CASA was awarded several grants and they totaled $20,000 more in monies than in 2020, Rowland Jones said. According to the provided budget comparison, CASA received $63,467 in government grants and $58,686.24 in other types of grants.
Also, Meyer said CASA has purchased three different types of books for the volunteers to read to the children they are advocating for. The books include what to expect of foster care.
In other business, the CASA Board of Directors approved Jason Ellis, Edward Jones; Bill McCarrick, Enlighten Mobility; Rachael Hoffert, Grace College; Lori Stanger, Kem Krest; and Angie Ritchey, who is retired from Lake City Bank, to be new members of the Board.