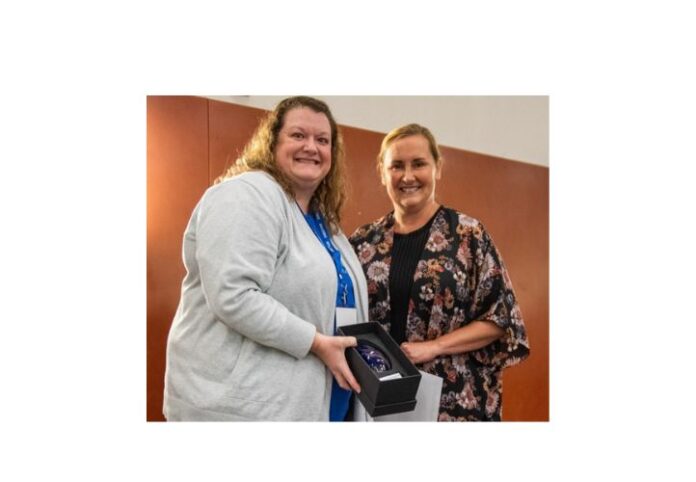 Staff Report
INDIANAPOLIS — Andrea Herschberger, of Nappanee, was recently awarded and recognized as the Indiana CASA of the Year by the Indiana State Office of GAL/CASA in Indianapolis.
Herschberger has been a volunteer for CASA of Kosciusko County for 14 years and in that time has advocated for 26 children, recently having been appointed to her 27th child, according to a news release provided.
CASA volunteers are specially trained volunteers who advocate in court for the best interests of children who have often been abused and neglected. A CASA serves as the voice of the child and the eyes and ears of the court.
"While often needing to make difficult decisions in her reports and in court, Andrea always does so with grace and respect. She always makes sure that all pertinent information is presented to the judge with the focus always on the child, their best interests, needs, safety and future at the forefront," said CASA of Kosciusko County Executive Director Erin Rowland Jones about Herschberger.
In the nomination, Herschberger was praised by DCS, CASA staff and foster parents for children she has advocated for and was described as a "gentle warrior" for the children she serves.
While accepting her award at the Indiana State CASA Conference, Herschberger thanked her husband, sons and daughters-in-law for their support. She stated while addressing the crowd of CASA staff and volunteers from across the State of Indiana, "I realize that this award could have gone to so many of you just as easily. And it makes my heart warm and I feel so proud to be a part of a group like this … I can't make a difference for lots of people, but I can make a difference to someone and together all of us can make a difference in the [lives of the] children of Indiana."
CASA of Kosciusko County is a nonprofit organization committed to advocating for the best interest of children who are at risk of, or who have suffered from, abuse and neglect, the release states.
"The children of our community need your help. These children, whose voices our volunteers represent, are brought into the court system due to no fault of their own. The cases our volunteers are seeing represent the very worst cases of abuse and neglect. These children not only need an advocate in court, they need a caring, consistent adult meeting with them during the most traumatic time of their lives," stated Rowland Jones.
If you would like more information on how to become a CASA volunteer or would like to donate, call CASA of Kosciusko County at 574-372-2401 or visit www.casachildren.com.