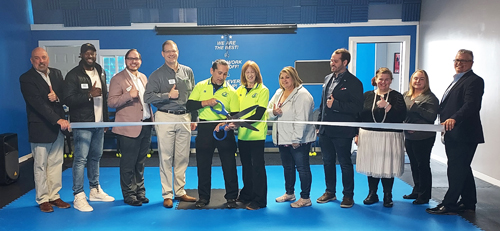 Kosciusko Chamber of Commerce held a ribbon-cutting ceremony Tuesday for Caudill's ATA Martial Arts, 841 N. Lake St., Warsaw.
Co-owner Robert Lee said Caudill's ATA Martial Arts has been at its current location since September 2020. Previously, they were where HopLore is on Market Street for 15 or 20 years.
Lee said his and co-owner Suzanne Caudill's backgrounds are different. Caudill does all the technical direction and instruction part of the classes, as she's a certified Tae Kwon Do master. Lee said his background is in five or six different martial arts, including grappling arts, so he teaches self-defense.
The age range for classes starts at 5, Lee said.
Martial arts classes start at 4:30 p.m. Monday, Tuesday, Thursday and Friday. Wednesdays are kept open so Caudill and Lee can do things with the elementary schools or do special training with their students. Classes are kept age and rank appropriate.
Besides martial arts classes, Caudill's ATA Martial Arts also holds a summer camp. It will run May 31 until Aug. 11 or 12. Lee said the focus is sports-focused activities.
There's quiet time in the morning until 9 a.m. Then between 9 a.m. to a little bit after 3 p.m., there's lunch and snack breaks, but the kids are focused on physical activities. There will be will be arts and crafts and field trips to the park during the week. There's martial arts every day and there's a dance class every week. Lee said it's to expose the kids to different types of movement.
The age range for the summer camp is 5 to 12.
Lee said the summer camp was started because they have unused time and space at their location.
If someone is interested in martial arts classes, they can call Caudill's ATA Martial Arts at 574-551-7289.
For those interested in the summer camp, call the camp phone number at 574-306-6767 or go to www.warsawsbestsummercamp.com.