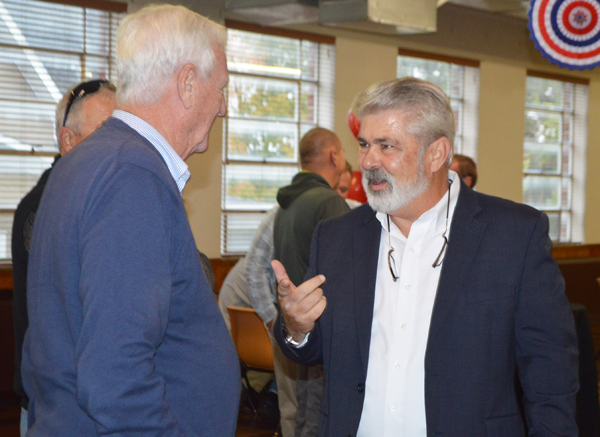 TIMES UNION REPORTS – Anthony "Tony" Ciriello made at least four major points Thursday evening as to why voters should elect him in 2022 as the next District 3 Kosciusko County councilman.
In a speech at his campaign kickoff event at American Legion Post 49, Warsaw, hosted by state Sen. Ryan Mishler and retired state Rep. Dave Wolkins, Ciriello stated that experience matters, he will work for the betterment of the whole county, he was willing to make the tough decisions and he wants to serve the county in a way that will make an impact.
Ciriello, 61, who is in his second term as county coroner, faces 24-year-old Scott Clay in the May Republican primary. Ernie Wiggins is the current District 3 councilman, but Wiggins officially confirmed earlier this month that he was not seeking re-election in 2022. Wiggins' term ends Dec. 31, 2022; and Ciriello's term as coroner expires Dec. 31, 2024.
Mishler introduced Ciriello at the campaign kickoff, saying he first met Ciriello when Ciriello was the Syracuse police chief. Over the years, they became good friends and worked with each other through different organizations.
"I was always impressed with Tony and how he interacted with us at the Statehouse and worked hard for all the different organizations he worked with. So much so that this last year, I actually hired him as one of my employees. He's been a good, a good friend and I've been very impressed with the things he has done for our community," Mishler said.
He said he thinks Ciriello would be a great asset to the Kosciusko County community and looked forward to working with Ciriello when he becomes a member of the Council.
After thanking Mishler for the introduction and Mishler and Wolkins for hosting the event, and acknowledging a number of guests, Ciriello said, "The reason I'm standing here tonight is because of one gentleman: Ernie Wiggins. Ernie, as you all well know, has served on the City Council, has served as the mayor of Warsaw and has served on the County Council."
He said he and Wiggins had some conversations this year, and initially when he asked Wiggins if he was going to seek re-election, Wiggins wasn't sure. About a week later, Ciriello said Wiggins told him he wasn't going to and Ciriello told Wiggins he would like to run for his seat. Wiggins said he hoped he would.
Ciriello said the County Council is a governing body of the county that deals with the financials of the county.
"They're the ones that deal with your tax dollars – where they're spent, how they are spent and whether they're spent. The Council has a tough job," he said, adding that the Council does more than meet once a month.
"The Council has to make some decisions that are popular. They have to make some decisions that are unpopular," he said. "There are seven members on the Council – four district, three at-large – and sometimes one person is that 'no' voice out of the seven. Sometimes three or four are that 'no' voice, or sometimes all seven. But there are times when you are going to have to say no. But there are times when you have no choice to say yes."
To make those decisions, Ciriello said issues have to be researched and he likes to research.
"I like to work. My fun is being at work, so working at the Council, making decisions, will be fun. Are there going to be times when it's going to be aggravating? Sure, it is. There's no doubt. There are going to be times when I want to pull my hair out, but there's also going to be times when I walk away from those meetings, knowing I made the right decisions and things are more beneficial for the citizens of Kosciusko County than they were before," Ciriello said.
He said he will represent District 3, which encompasses Wayne Township, Warsaw and Winona Lake.
"So I have to convince the people of District 3 that I'm the right one. And I do have an opponent. Don't know if you know this or not, but he's a young man. Nice guy. I like him a lot. But he's 24 years old. He has no experience in county government, no experience in any kind of government at all," Ciriello said.
He admitted that he, too, doesn't have any experience serving on the County Council, but he's worked with the County Council for many years.
"My job as coroner, as a department head, I have to work with the Council for my budget or if I need additional appropriations … I have to work with them so I have a working relationship with them," Ciriello said.
As the elected coroner, he said he felt it was important for him to attend as many Council meetings as possible, even if he had nothing on the agenda.
"So I attend a lot of Council meetings," he said, acknowledging he didn't attend the last three Council meetings because of prior commitments.
"I believe in this Council race, experience matters. I have a lot of experience in government. I have a lot of experience in municipal government, county government and state government," he said.
In 2014, Ciriello was president of the Indiana Association of Chiefs of Police, which 450 police agencies belong to. Ciriello was Syracuse police chief at that time.
"Members had enough faith in me to elect me president for a year," he said.
Near the podium where Ciriello spoke was a table of the accolades he received over the years in his various positions. The one he said he was most proud of was the Sagamore of the Wabash he received in 2015 from then-Indiana Gov. Mike Pence.
As a county councilman, Ciriello said he will continue to have an open door policy as he's had as a police chief and county coroner.
"But I want to work for the betterment of Kosciusko County as a whole. I will represent a district, there's no doubt. And the constituents in my district are going to be important, but sometimes, too, as a councilman, even as a district member, you've got to look at what's best as a whole picture for the entire county and not just for your district," Ciriello said.
It's a tough job, but he said he's willing to make those tough decisions, willing to listen and willing "to work for you."
In closing his remarks, Ciriello said, "I want to continue to serve Kosciusko County. I want to continue to serve Kosciusko County in a way that's going to make an impact, and I believe by going on the County Council I can make that impact."
In a question-and-answer session with reporters afterward, Ciriello said he was a county sheriff's deputy for about 18 years before going to the Syracuse police. Prior to that, he was an arson investigator for the state fire marshal's office in this area.
During the 2022 budget discussions this year, the County Council floated the idea of a new public safety income tax, but did not act on that.
"I am not the guy that's in favor of raising taxes. I am not the guy that's in favor of creating a new tax. I realize that, at times, that could be a possibility that you have to consider. One of the things they were looking at this year was a possibility of creating that new public safety income tax. But they weren't 100% sure what all the revenues were going to be from the pandemic. It turned out, all of our revenues were good so there was no reason to go forward with that tax," Ciriello said.
He said the tax would have raised enough money to probably support the entire sheriff's office budget. However, he said, the general fund is solvent enough to do that, as is the rainy day fund. He said the county needs to continue to put money in the rainy day fund and the motor vehicle highway fund.