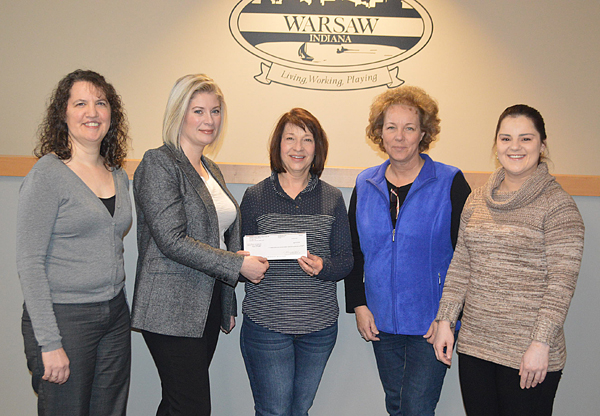 IPEP presented the city of Warsaw with six grant checks Friday.
IPEP (Indiana Public Employers' Plan) – the city's worker's compensation provider – is a nonprofit, self-funded workers' compensation program for Indiana public employers that offers training, risk management and a series of benefits.
"With a commitment to safety and risk management, IPEP partnered with the city of Warsaw to enhance our safety programs by providing an incentive of up to 80% of the purchase price for safety equipment or safety training programs to reduce or limit workers' compensation exposure," according to information provided by the city's human resources department.
The grants included $3,613 to the fire department for confined space rescue air cart; $4,796 to the fire department for fire dynamic training prop; $6,040 to the city's safety committee for 10 of its members to receive OSHA/safety training through the Indiana Chamber of Commerce; $5,440 to the street department for water-resistant, abrasion- and cut-resistant work boots; $2,768.40 to the wastewater treatment utility for a rescue tripod; and $6,160 to the wastewater treatment utility for safety LED lighting mounted to the side of vehicles.
Nevena Stanley, senior risk management specialist with IPEP, said IPEP clients can "apply for anything that is safety related and that's injury-prevention related." She said what she's seen so far in the grant applications have been "all kinds of personal protective equipment – hard hats, steel boots, high-visibility vests, gloves, things of that nature; and then for offices people have been buying like those ergonomics sit/down desks, all kinds of nice chairs; respirators for fire departments; those cots … that you don't have to lift the patient. Those manhole cover lifters, those things are amazing. Just anything really they can think of that is injury prevention."
Stanley said Warsaw Human Resources Director Jennifer Whitaker has a safety committee that is going to a safety conference, and that's another example of what the grants can applied for.
Whitaker said the city changed its workers' compensation provider in November 2018 to IPEP.