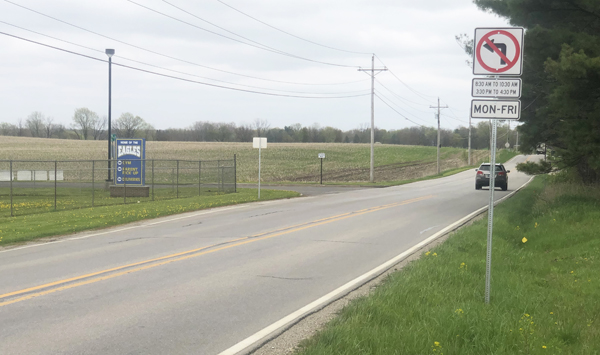 Warsaw officials are going to meet with Warsaw Community Schools representatives to figure out better plans to deal with the traffic around Eisenhower Elementary School.
On Wednesday, the Warsaw Traffic Commission voted to approve the city and county working together to put a school zone on CR 200S, which is the road south of the school, and reducing the speed.
The county owns a portion of CR 200S in the area so the Kosciusko County Highway Department would need to be involved.
Previously, the school, in cooperation with the city, placed signs at Dwight Drive and CR 200S, eliminating left turns into and out of Dwight Drive at certain times of the day. Drivers have to turn right into and out of Dwight Drive, which is a city street. The Traffic Commission approved an ordinance in January making Dwight Drive a right-turn in and right-turn out only.
The Eisenhower traffic discussion came up Wednesday after the Commission received a letter from Bruce Woodward, South Parry Drive, Warsaw. His letter states that because vehicles can't make left turns into the school, drivers are getting "creative" about ways to get into the westbound lane to access the school entrance. That includes using people's driveways to dangerously back out into traffic. He also suggested the addition of another asphalt north/south lane on school grounds for the south entrance of the school.
Traffic Administrator Lance Grubbs pointed out Woodward's suggestion was similar to what Warsaw Police Department Capt. Joel Beam previously suggested. Dwight Drive is a city street but is not on school grounds, nor is CR 200S.
Dr. David Robertson, WCS assistant superintendent of elementary education, said, "We continue to get a fair amount of feedback about traffic patterns around Eisenhower, specifically, the decision was made in the fall to do Dwight Drive right-turn in and right-turn out." He said that was due really to some safety concerns after there were some near accidents with people turning left out of Dwight Drive onto CR 200S.
He hadn't read Woodward's letter by the time of the Commission's meeting Wednesday, but had heard similar concerns from Parry Drive residents.
The other concern WCS has heard, he said, was the speed along CR 200S. It is 45 mph all along the school area on CR 200S, though County Farm Road, which borders Eisenhower on the west, is a school zone. Robertson said WCS would like for the Traffic Commission to consider either reducing the speed on CR 200S or making it a school zone just because of the amount of traffic there.
Beam said, "I believe there's a school zone around every school, every Warsaw school. This is unique that (Eisenhower) doesn't have it so it should actually be a priority to get that fixed."
Warsaw Street Superintendent Dustin Dillon said CR 200S east of Dwight Drive is county road so the county would have to be involved in making that a school zone.
Warsaw Community Economic and Development Director Jeremy Skinner said he had a chance recently to talk to the Warsaw School Board and Superintendent Dr. David Hoffert. "They kind of shared that some of the things we tried to do aren't working, so I think we probably need to go back to the drawing board. I think a school zone is certainly going to help in terms of slowing speed down. I think we need to go back to the drawing board and look at some other options that might help with traffic safety out there."
He said he, Dillon and the School Board could meet to look at other options. There could be some short-term options and "longer, bigger picture" things they could look at, too. Skinner also said they need to quantify the traffic out there to help figure out the short- and long-term options.
Robertson asked again about the school zone, and Skinner said doing that was step one in the whole process. Beam agreed 45 mph was too fast in that area.
After further discussion, the Commission voted for the city to meet with the county about putting in a school zone and reducing the speed.
Another matter the Commission discussed was an update by Beam about the intersection of Pope and Detroit streets. A person had approached Grubbs about the possibility of making the intersection a three-way stop and the Commission discussed that at their March meeting, tabling it until Wednesday's meeting.
Beam reported he reached out to the Michiana Area Council of Governments and recently received their report on the intersection next to Warsaw Cut Glass. He said it was MACOG's recommendation that it not be made a full-way stop.
City engineer Aaron Ott said he looked through MACOG's report and "a few elements of the warrant do get met but not the full criteria for any of the warrants as far as the Manual of Uniform Traffic Control Devices."
Commission member Connie Fribley asked if there was discussion at one point at putting a stop sign where Prairie Street meets Detroit. There is a stop sign on Detroit at Prairie, and a yield sign on Detroit at Prairie, but no sign on Prairie at Detroit.
Beam said he could pull the crash data for Prairie and Detroit and the Commission could revisit the issue at their 1 p.m. June 1 meeting.