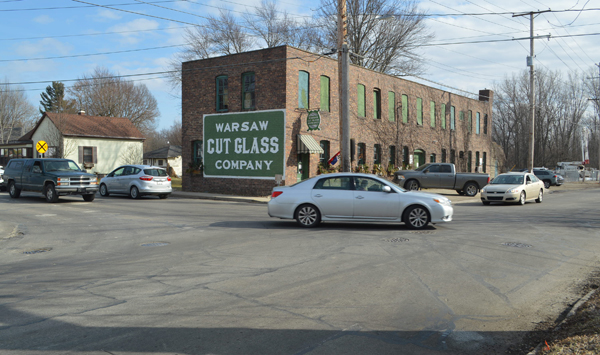 Two places in Warsaw where traffic sometimes backs up were discussed at the Traffic Safety Commission meeting Wednesday.
The first was the intersection of Pope and Detroit streets, and the second was at Clearwater Car Wash on Husky Trail. No decisions were made, but the request for an all-way stop at the Pope and Detroit streets intersection was tabled for further study.
Traffic Administrator Lance Grubbs said he was approached by someone who asked if it would be possible to put a three-way stop at the Pope and Detroit streets intersection where Warsaw Cut Glass is situated.
Warsaw Police Department Capt. Joel Beam said the intersection was looked at back in 2016-17 by the Traffic Commission. Michiana Area Council of Governments did a study of the area and said they needed to keep an eye on it in 2017.
He said he pulled the traffic data for the intersection.
"We're averaging between two and three crashes a year at that intersection," Beam said.
Grubbs asked if they were serious at all or just property damage. In 2018-19, Beam said there were three; 2020, two; and 2021, three. He said he did not look at property damage versus personal.
"It's a slow area, but the 'T' crashes" happen the most, Beam said. There was one accident involving a bicycle and car, but the rest involved personal motor vehicles. There were a few rear-end accidents.
"One vehicle was going north and went east on Pope Street and stopped at the train. The car behind it didn't. We had several of those," Beam reported.
About half of the accidents were vehicles turning right onto Detroit Street from Pope. "Just not seeing other vehicles," Beam said.
The concern in 2017 was that if a three-way stop was put in at the intersection, all the cars would back up to Winona Avenue.  MACOG's study in 2017 was that they don't do an all-way stop.
"But things may have changed since then," Beam said.
Grubbs said he believed the concern expressed to him was that traffic is backed up coming from Pope Street and Pope Street traffic doesn't get a chance to turn onto Detroit Street to go north or south, at least at certain times of the day.
Traffic Commission member David Allbritten said turning southbound onto Detroit, sometimes there's obstruction of vision because cars are parked there at Warsaw Cut Glass. Turning onto Detroit to go north, on the other hand, seems pretty easy, from what he's seen there.
"You just have to wait and take your time. There's just really a couple times during the day that it gets backed up. Most times, it moves pretty quickly," Allbritten said.
Grubbs said in 2017, MACOG suggested not doing anything unless something happens at the intersection to change that, but he didn't know of anything that's happened. Beam said he was unaware of anything happening.
City Planner Justin Taylor said, according to 2021 traffic count data, Pope Street had about 6,800 cars average daily count, and north/south on Detroit there was around 5,000 a day.
"I looked at a couple areas, at least one area, where we have a stop sign with around 5,000 cars a day. And we do by Central Park on Fort Wayne Street. I'm not sure of major stacking issues on that at that intersection, but I'm just throwing that out there for discussion," Taylor said.
Grubbs wondered how that 2021 data compared to 2017 and asked if they could get in touch with MACOG to see what their numbers might have been.
Taylor said the car stacking up back to Winona Avenue would be a major concern for putting an all-way stop at the Pope and Detroit intersection. "I definitely would want to run it past traffic engineers to see if that's a concern for them as well," he said.
Beam said one of the recommendations for adding an all-way stop is that there should be an engineering study done first.
Warsaw Street Superintendent Dustin Dillon said, "We could look at adding – kind of what we did over at Maple (Avenue) and Fort Wayne (Street) – adding a bigger 'Cross Traffic Does Not Stop' sign with the stop sign coming off Pope Street. Try to make sure that everybody sees that, does know that 'hey, these guys aren't going to stop.' But any time you add an extra stop sign there, obviously, you're going to have to have an engineering study to back it before you can even put it up."
He said the other concern is that an all-way stop is stopping the traffic in all directions "all the time at all hours" and "this is just during morning school drop-off and afternoon school drop-off. Even the weekends, every other time of day or time of the week, you're stopping traffic, which is, in essence, going to back traffic up anyway. That would be a concern on our side."
Common Council President Jack Wilhite said when a train goes through, that creates a real mess for a few minutes anyway. He asked, if they went to an all-way stop, "what would that impact be? Would the unintended consequences of that be worse than what we're dealing with now? Is there some way to study that?"
He said he didn't "have an imagination" to figure out what a solution would be at that intersection, "other than a roundabout," which elicited some laughter from other Commission members.
Councilwoman Cindy Dobbins said, "It would be helpful, with the cars that are coming off Prairie (Street) onto Detroit and intending to turn onto Pope Street, if they would use their turn signals so that people  knew that they were intending to turn. But there's no way to get that to happen."
Grubbs said the Warsaw Cut Glass building there presents a few of its own problems, including view obstruction and no place to put signage in their parking area, as well as vehicles that are parked there.
City engineer James Emans said, "From a personal experience, I think it's more of a line of sight when you're looking southbound. When there's vehicles parked there, that building is out there. You've got to really nose out to be safe. I don't see the stacking problem from the southbound traffic coming onto Pope. But I think making it a three-way stop, I'd rather see us do something to improve the line of sight from the southbound."
Sensing more information was needed, the request for an all-way stop at Pope and Detroit was tabled. Beam will reach out to MACOG for more information from them.
Taylor then said he was contacted by a man with concerns about car stacking at Clearwater Car Wash on Husky Trail. Initially, the man was advocating for a stop sign on Husky Trail, but Taylor said he didn't think that would solve any of the problems there.
"His concern about stacking out on the road is a legitimate concern, and I think it would be a combination of increased enforcement for cars that are blocking the roadway and we could, potentially, even look at signage to make it clear that there shouldn't be any blocking of the roadway or parking out here," Taylor said. "Similar to what happened with Dunkin' Donuts on Center Street. We're just getting that stacking out on a nice day when everyone is just wanting to wash their car. So, I don't think it's a constant thing, but it is something we definitely want to discuss and see if there's any solutions this committee might have."
It was discussed that Clearwater was eventually building another car wash on Ind. 15 near Walmart.
Grubbs said he talked to the Clearwater owner and the stacking happens when people want to wash the salt off their cars. Otherwise, it doesn't happen that often.