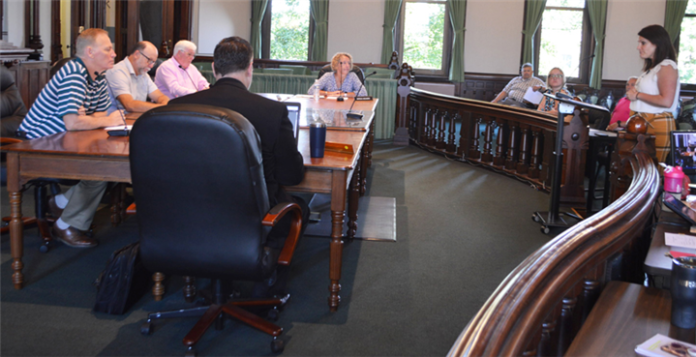 Of the nearly $8 million Kosciusko County has in its American Rescue Plan Act (ARPA) balance, the Commissioners approved Tuesday to earmark $1.2 million of that for Hoosier Enduring Legacy Program (HELP) projects.
The county's ARPA Committee recommended the funds be earmarked for the HELP projects.
Kosciusko County was awarded one of three first-round HELP grants in Indiana through the Office of Community and Rural Affairs (OCRA) in December. The grant provided partial funding for Kosciusko County to hire a community coordinator to help the county's rural communities to build and complete projects which will make lasting and resilient changes in the small towns using ARPA dollars and other  possible grants, according to a December news release. Included in the award is a matching $1 million grant for projects that are identified by the communities, which will help bring the selected  projects to reality.
Kosciusko County Coordinator Amy Roe, who is leading the HELP for the county, told the Commissioners on Tuesday, "Yesterday, we brought our recommendation to the ARPA Committee. We requested between $1.2 and $1.5 million to put toward the county projects related to the HELP. We also had each of our committee members present the projects that they have begun to develop."
The four committees consist of 48 individuals from all of the HELP communities, and one representative from each committee presented ideas Monday to the ARPA Committee based on what the committees decided, she said. The ARPA Committee felt that $1.2 million "would be a relevant source of income to move forward with the projects, and so that's what's been approved by the ARPA Committee."
Commissioner Cary Groninger said, "I think that the main thing is, yesterday, when we had those four different committees present to us, which I think you guys will see that information of the different opportunities that they came up with, some of the committees haven't fully built out their project list, it's more general at this point. That's going to happen over the next few months."
Groninger, who sits on the ARPA Committee and is spearheading the Kosciusko HELP, said what they were asking for Tuesday was for the Commissioners to earmark $1.2 million out of ARPA funds to be used toward the projects.
"This is part of the process that we're walking through with OCRA that we've got to show them that we got money set aside and earmarked for the projects that we're going to move through the process. So over the next month, month and a half, we're going to refine these projects down."
He said there was a lot of "passionate" people Monday at the ARPA Committee meeting who walked through their projects and had some "really great ideas" that can help move the county forward. Those ideas range from trails to community centers and different programs.
"So this would be specific for only projects that would be for the county, and then these projects, once they're refined, would come back to the Commissioners and the Council for their approval for specific projects. So this is just kind of initially earmarking the funds to meet our requirements that we have with OCRA," Groninger explained.
Commissioner Brad Jackson asked if they weren't committing any money to anything specific, just jumping through a hoop.
Groninger said that was right. "We're committing to a pool of money set aside, and then those specific projects will be identified with the next round. Those will come back in front of us and we can pick and choose" and decide what projects to spend money on.
Commissioner Bob Conley asked what the balance in the ARPA funds was. Groninger said currently the county has about $7.8 million left so the $1.2 million off of that would leave about $6.6 million.
"That's basically just the planning stage at this point. This is the wish list and this is what we think it's going to cost," Conley said.
"Yes, sir," Roe responded. "So the next phase is what they call the project worksheet completion, and the projects will actually end up in a strategic investment plan (SIP). … There will be a capstone project for each of the communities, including the county, and then this specific strategic investment plan. So there's a little bit more  heavy work that has to be done – to fill out the project worksheets or program worksheets – to make sure that we understand the financial obligation related to the project and any details that maybe produce complexity to the project that would make it not able to be done in the 2026 timeframe because it has to be completed by then."
She said there will be at least another month or two or three to be able to plan.
As projects are picked, Groninger said they have to make sure there's a matching grant for it. Some grants could be $1 from OCRA for every $1 the county spends from its ARPA funds.
"And then there's a whole other series. We're walking through this as a county, but we have four other communities – Etna Green, Pierceton, Mentone and Milford – that are doing the same things, so they have a list of projects," Groninger said. "So the cool thing about this is, when we're all done, this SIP board will have a list of projects that all four of these pillars, as we move forward as a county, when we identify a funding source that would come in, a grant opportunity, we already have a list of projects that we're kind of able to take off our SIP and put it to action relatively quickly to where we're not trying to reinvent the wheel when we hear about some money that's available."
Roe said the SIP requires a lot of work to do, but Warsaw Mayor Joe Thallemer told her it's a useful tool to have.
"It's a neat process with the fact that each of those communities will have this lasting capstone project, and then the strategic investment plan that will continue into the future for as many years as we desire to get these projects done. So it's a pretty neat opportunity for $1.2 (million)," she said.
Thallemer told the Commissioners that when the city of Warsaw applied for the Stellar program, the city created its own SIP. Though the city didn't win Stellar, he said the city continued to use its SIP.
"I think we had 10 projects on there. Just about all of them have been started or completed," he said. Asked by Conley what some of those projects were, Thallemer mentioned the Winona Avenue roundabout, the Market Street work and Argonne Road. Thallemer said HELP is kind of like Stellar 2.0, only it's more for the county and is not a city project. He said the planning process is the most important part of it.
Jackson made a motion to approve the $1.2 million, Conley seconded it and it was approved 3-0.
After Conley stated the projects needed to be planned carefully because that's a lot of money, Roe said they have a team of 17 individuals on the core advisory team. Those include K21 Health Foundation CEO Rich Haddad, Kosciusko Chamber of Commerce President and CEO Rob Parker, Kosciusko Economic Development Corporation CEO Alan Tio, Groninger, County Council President Sue Ann Mitchell and others.
"So those individuals will be working with our community members to refine those projects and ensure that the projects are complete as you indicated. And once those projects are complete, that we understand the other side of the funding, the CDBG. We want to make sure we honor the auditor's office and all of those details that need to be followed. Then we'll bring those projects back and, from what I understand, from yesterday's conversation, is that the Commissioners and the Council will be able to review those in totality and then they will be able to decide on the capstone projects as they see fit," Roe said.