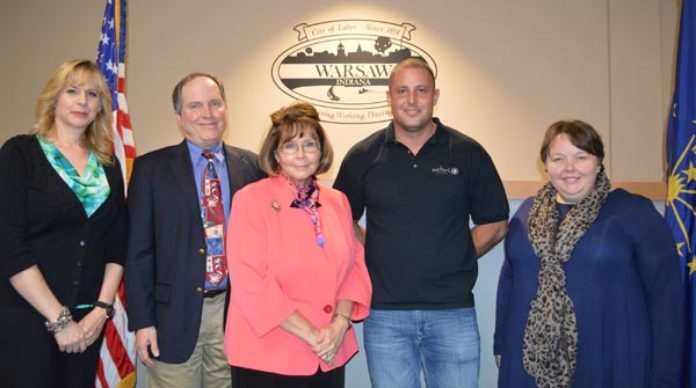 The community gathered Tuesday night at city hall for a town hall meeting on solutions and resolutions to the addiction crisis.
Denny Wilson served as moderator.
The meeting was put on by Mickey Ashpole, outreach coordinator for Satori Waters, Fort Lauderdale, Fla. Ashpole is a Wawasee High School graduate.
The goal of Satori Waters is to treat the disease of addiction and provide clients with a clean and sober lifestyle.
Ashpole recovered from opioid addiction.
"I found the level of care in Florida was not the same locally for those battling addiction. I wanted to get people to talk locally about addiction issues and solutions," he said.
Dr. Gregory Eigner, associate program director for Fort Wayne Medical Education program, said doctors' responsibilities are to prescribe pain medications responsibly.
"We have become over reliant on medications and need to get away from that," Eigner said. "The goal with chronic pain is to find non-opioid treatment options or prescribe low doses of opioids."
Eigner advised parents and guardians to keep pain medications locked up so teens cannot get to them.
Kosciusko County Sheriff's Department and Warsaw Police Department have drop boxes where people can take unused prescription medications.
"Addiction is a chronic disease. We need to eliminate the stigmatization that keeps those afflicted from seeking help and return them to a productive life for the welfare of their families and communities as a whole," Eigner said.
Dr. Debra McMahan, Allen County Health commissioner, said opioids are usually prescribed to treat pain or sports injuries. She said the path to addiction can be caused by mental illness, chronic pain or sports injuries.
"Addiction is a chronic disease of the brain," McMahan said.
Kristina Johnson, director of community initiatives for Lutheran Foundation, Fort Wayne, spoke about the organization.
It launched a website, www.loolupindiana.org, and provides educational resources for mental and behavioral health.
Michelle Merritt, executive director of Trek Limitless Recovery, said there are 23 million people in the U.S. who are actively recovering from substance abuse.
She said a facility is being built in Fort Wayne to help those battling addictions. Fitness and health programs will be offered.
Merritt said ways to combat addiction are to work with law enforcement and create a culture of recovery.
Joe Thallemer, Warsaw mayor, said addiction is a problem across the country and is not unique to the community.
"What is unique is those people who are here, including law enforcement, judicial representatives, locals, medical professional, social services and recovery experts," Thallemer said. "We are not going to stick our head in the sand. We are going to work to eradicate this problem."
Stoney Craft, New Life Christian Church and World Outreach member, informed attendees the church offers a Celebrate Recovery group that meets Tuesdays at the church from 6 to 8 p.m. The group is for those battling hurts, habits and hangups.
Others on the panel were Scott Whitaker, WPD chief; Lt. Chris McKeand, KCSD; Vicki Ley, Bowen Center director of addiction services; and Kim Kelly, Serenity House.
There were about 100 people in attendance.