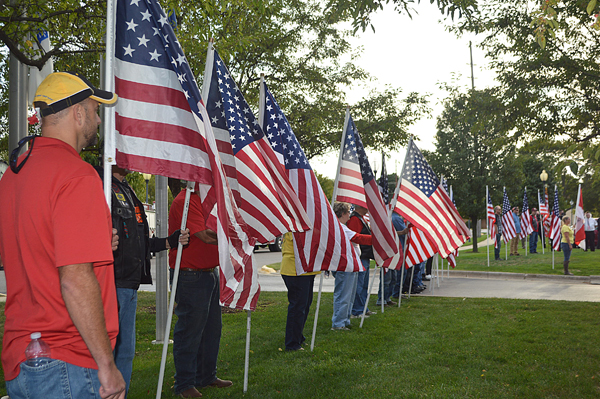 Surrounded by American flags, first responders and military servicemen, the annual 9/11 Remembrance Memorial Ceremony Friday evening featured three speakers in between patriotic songs and ceremonial rites.
About 100 people attended the event at the 9/11 Memorial in front of the Center Lake Pavilion at Central Park, Warsaw.
Mike Cox, 9/11 Remembrance Committee member, welcomed everyone to the 19th annual ceremony.
"I want to thank you for being here tonight to remember the victims of the terrorist acts of Sept. 11, 2001," he said.
After Cox thanked the committee, participants, supporters and the Patriot Guard Riders for their flag display, the Indiana Guard Reserve presented and posted the colors; Bryce Lippe sang the national anthem; and Boy Scout Troop 715 led the pledge of allegiance.
Warsaw Mayor Joe Thallemer was the ceremony's invited and first speaker.
He thanked everyone for coming and for pausing a few moments in their busy days to remember a "pivotal day in our history" 19 years ago.
"I'm truly honored to have been asked to say a few words tonight," he said, noting it was the second time he was asked to share his reflections on 9/11. The first time he had to compete with a long, loud train horn.
"While it was an inconvenience, I'll take the sounds of a vibrant community any day over the eerie silence that was all that remained immediately after the towers fell on 9/11, 2001," Thallemer said.
He made two points in his speech.
"First, 9/11 will never be forgotten," he said.
Thallemer spoke with a 21-year-old man Friday morning who was only 2 when 9/11 happened and could not recall any events of that day.
"It made me realize that our next generation, those who will be our future leaders, were simply not around and not a part of the tragedy of 9/11 that we reflect on today. We must all rely on history to tell the story of the pivot our nation took that day," Thallemer said.
Things will never be the same because of 9/11, he said, and "we always will remember. The historical significance of 9/11 will never allow us to forget the horror we felt, the heroes that emerged and the lives that were lost. It will never allow us to forget the urgency to recover and to rebuild. It will never allow us to forget the resolve our country felt to get up, dust ourselves off and defend our freedom," he said.
Several years ago, he had the opportunity to visit the recently completed National Sept. 11 Museum and Memorial at Ground Zero. There are two square ground zero memorial walls that overlay the footprint of each tower. At street level, there are 2,977 names of the victims from all of the tragic events of 9/11 engraved on the walls. Cascading from all four sides is a waterfall into a reflecting pool. In the center of the pool, the water disappears into an abyss, he said.
"The impact of the disaster and the number of lives lost in that small footprint of New York City could not have been more apparent," Thallemer said.
The second point he made was that adjacent to the World Trade Center is New York Fire Department Engine 10 Ladder 10 station at Ground Zero.
"Losing five members of their ranks that day, amongst the 412 emergency workers killed in New York City, their station was destroyed to the foundation by falling debris," he said.
Thallemer said the heroism displayed by emergency responders and every day citizens on that day redefined who and what a hero was from that moment forward.
"September 11, 2001, changed history forever. It will never be forgotten. God bless those who ever test our resolve again. September 11, 2001, gave us a new generation of American heroes and I thank God for that," Thallemer concluded.
After Ed Rock sang "Where Were You" and before Rock sang "God Bless the USA," Cox made some brief remarks.
"It's been quite a year. We started this year, we had low unemployment, a booming economy. Optimism was in the air. Since then, due to the COVID-19 virus, the unemployment rate shot up as the economy stalled. We're all being told to stay home," Cox said. "Tempers flared and protests and riots followed law enforcement shootings of citizens. Cities burned. People got hurt. Our nation seems so divided by this, it made me think back to Sept. 12, 2001, when our nation was so united in fear and in patriotism."
He said America had been attacked and its people murdered by radical Muslim terrorists.
"We promised we would never forget. Today, with all that is going on, I do have to ask, 'Have we forgotten?'" Cox said. "And you might ask in return, 'How can we even think about 9/11 when our country is in turmoil?'"
He said his answer would be, "That we came together on 9/12 because each of us needed support and we felt the need to support our neighbors. And today, we and our neighbors need to be supported."
He said even with everything going on, radical terrorists have not given up their goal of "subjecting the U.S. and the world to Islam." A divided America is a prime target, Cox said. "We need to be vigilant and united as a nation, and not divided. It's up to each of us to heal the separation."
The third and final speaker was Ken Locke, Greater Warsaw Ministerial Association director and 9/11 Remembrance Committee member. He started by talking about President Donald Trump bestowing the Congressional Medal of Honor Friday to Sgt. Maj. Thomas "Patrick" Payne for his role in a mission to rescue hostages who were set to be executed by the Islamic State. Payne was 17 when Sept. 11 happened and signed up for the military on his 18th birthday, becoming a U.S. Army Ranger. Payne had 17 deployments or missions to the Middle East since 9/11.
"We owe great gratitude to people like Sgt. Maj. Thomas Payne," Locke said. "Even some of ours here locally did not come home when they served in the Middle East."
He said sometimes we forget that people who put on uniforms "bleed red just like the rest of us. People who put on uniforms have hurt and pain just like the rest of us. And I think we all should be reminded, especially on Sept. 11 … that there are people every day who put their lives on the line for us." Some people in the country have lost sight of that, he said.
Locke then offered the following statistics for just 2020: In the United States, 99 police have been killed in the line of duty; 65 firemen have died in the line of duty; 900 medical personnel have died, with COVID adding to those numbers; and 35 EMS have died since Jan. 1.
"All of them putting themselves in harm's way. All of them being willing to serve," Locke said. "… We never forget because the freedoms we enjoy today have been paid for by someone else, and they have to be maintained by each generation as well."
Central dispatcher Cindy Justice put flowers near the 9/11 Memorial as a representation of those who have lost their lives in the line of duty. A moment of silence was followed by a 21-gun salute by the American Legion Honor Guard and the playing of Taps by bugler Dr. Jim Bohlin.