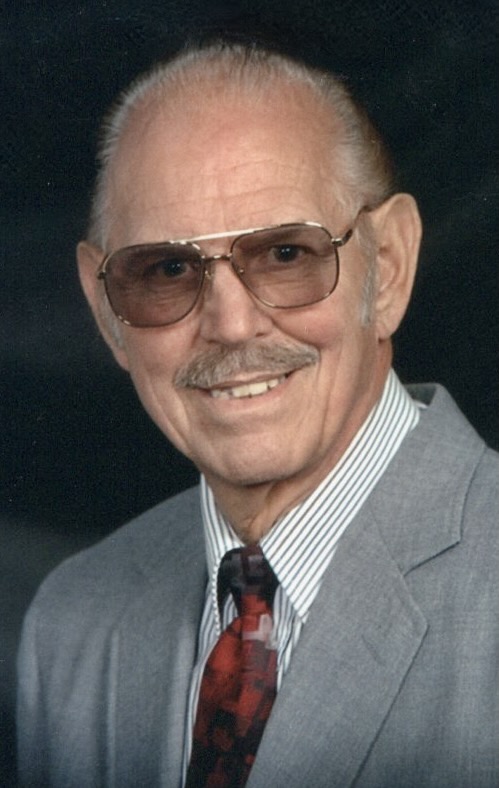 Conrad Lee Meinert of Grace Village Retirement Community, Winona Lake, Indiana passed away at 6:52 p.m. on Tuesday, April 5, 2022 at Grace Village Healthcare Facility at the age of 92.
He was born on December 13, 1929 in Silver Lake, Indiana to Cleo Louise (Drudge) and Walter Roger Meinert.  Conrad was a lifetime resident of Kosciusko County, Indiana where he was a 1948 graduate of Silver Lake High School.  At the young age of 22, he decided he was going to spend the rest of his life with the lovely Charlene Shirley Mattix.  They were married on November 27, 1952 and they were blessed with three children and shared 69 years of anniversaries, countless birthdays, holidays and family gatherings before he passed away.
Conrad enlisted in the U.S. Army on May 7, 1951 and proudly served in Korea.  He received the Korean Service Medal with one bronze star and was awarded the Purple Heart.  He was fortunate to have returned home to his family and was honorably discharged on February 6, 1953.
He was a reliable hardworking man and provided for his family working at several Kosciusko County industries and he retired from DePuy of Warsaw in 1997 from quality inspection.  One of Conrad's passions was his love of birds especially raising exotic birds.  He started out raising pigeons as a child, which eventually grew into showing his birds that resulted in a wall full of trophies in his later years.  Conrad was affectionately known as "The Birdman of Warsaw."  He belonged to many bird clubs and boy did he have a sharp mind and loved to educate others about his birds.  He finally reached the point where he himself became a judge of exotic birds at shows in the U.S. as well as many other countries.  Conrad loved nature and had a green thumb for raising orchids.
He was a member of the American Legion Post #49 of Warsaw, and enjoyed the fellowship of his church family at Walnut Creek United Methodist Church in Warsaw where he was a longtime member.  Conrad lived a full life during his 92 years on this Earth and always had a smile to share.  He was loved by his wife, experienced the joy of becoming a father, grandfather and great-grandfather and will forever be remembered by those who were fortunate to have known him.
He will be lovingly remembered by his wife, Charlene Shirley Meinert (Winona Lake, IN), son, Tony (Janeen) Meinert (Claypool, IN), two daughters, Donna Thrasher (Warsaw, IN) and Darle (Bob) Campbell (Duluth, GA).  Also surviving are nine grandchildren:  Leslie (Jason) Lopez, Ross (Lindsay) Campbell, Tyler Lock, Adam (Danielle) Lock, Lauren (Justin) Creamer, Hayley Thrasher and fiancé Will Abbott, Heather (Jeff) Cook, Matthew (Kara) Meinert, Quentin Meinert; and twelve great-grandchildren:  Leighton, Elliott, Ezra, Mason, Harper, Rowan, Gauge, Wesson, Ryder, Espen and one on the way!  He also leaves behind his sister, Dorothy Howell (Silver Lake, Indiana).  He was preceded in death by his parents, one sister, Vivian Thompson and his brother, Walter Rex Meinert.
Visitation will be held from 2:00 – 7:00 p.m. on Wednesday, April 13, 2022 at Redpath-Fruth Funeral Home, 225 Argonne Road, Warsaw, Indiana.  Conrad's life will be celebrated with a funeral service at 11:00 a.m. on Thursday, April 14, 2022 at Redpath-Fruth Funeral Home and officiated by Reverend Stacy Downing.  There will also be visitation time an hour prior to the service.  A graveside service will follow at Lakeview Cemetery in Silver Lake, Indiana with military rites conducted by the American Legion Post #49, V.F.W. #1126 and active duty members of the Army Honor Guard.
Memorial donations may be directed to Walnut Creek United Methodist Church, 2033 S. 150 W., Warsaw, IN  46580; or to the D.A.V. (Disabled American Veterans), P.O. Box 14301, Cincinnati, OH 45250-0301.
Online condolences may be sent through the funeral home's website at www.redpathfruthfuneralhome.com.