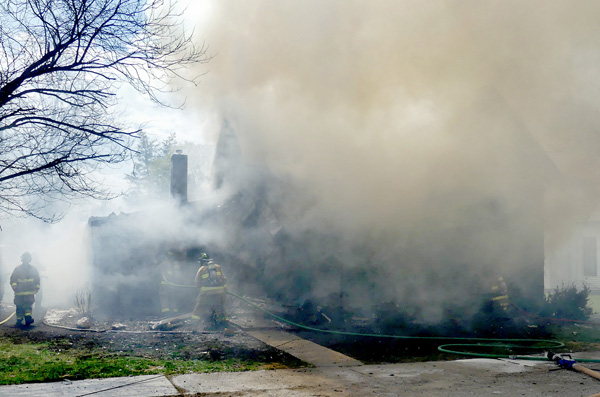 Shortly after 1 p.m. Wednesday, a quick-thinking construction crew rescued a baby and two others from a house fire in Milford.
Milford Fire Department was called to 410 W. Catherine St. after employees with Widman Builders reported the house on fire and they had just rescued several people from the upstairs window.
John McQuade and Micah Mansfield were working on a roof at the neighboring house when McQuade said he heard a woman yelling for help.
"I looked over to peek and I saw a lady on the ground in front of the house screaming for help," McQuade said. "We rushed down, I told Micah to grab a ladder. They had a little baby about 6 months old hanging out the window. I said don't drop it, we'll climb up there."
McQuade said they put the ladder against the house, climbed up, grabbed the baby and safely delivered the child to the woman on the ground. Two other people upstairs also climbed down the ladder to escape the fire.
"They said there was one person still inside but we didn't see them. Apparently, they came out from out back, so everybody was counted for, and we're just thankful we were there," McQuade said. "I've seen house fires before, but never had to be there to help in that sense. We're thankful God had us there. … We just were here to help out and doing just what we hope anybody would do for us."
Jay Widman, owner of Widman Builders, said he was in Warsaw when his guys performed the heroic duty.
"A fire is not very cool, but it was a cool thing that happened that we were there," Widman said.
According to county records, the home is owned by Tasha Thompson and is a complete loss after the fire.
Milford Fire Chief Virgil Sharp said no one was hurt and the cause of fire is under investigation.
Milford Fire was assisted at the scene by Leesburg, Syracuse and New Paris fire departments. Crews arrived shortly after 1 p.m. and did not leave until 8 p.m.
At about 9:15 p.m. Wednesday, the fire department was called back to the scene as the garage was reportedly on fire.