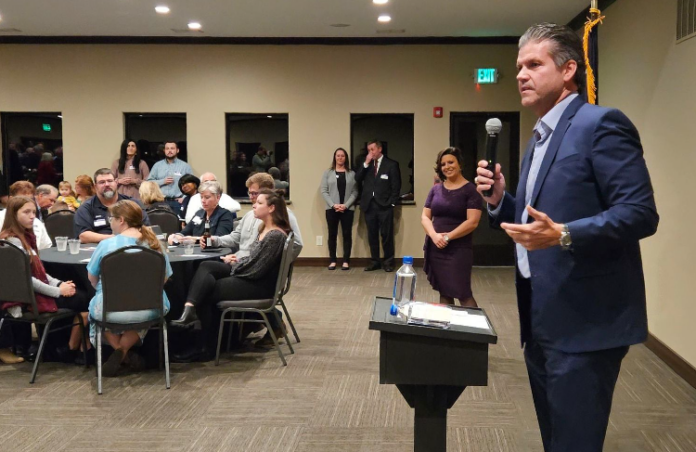 By Dan Spalding
News Now Warsaw
NORTH WEBSTER — Thirty-four year-old Rachel Rhoades kicked off her campaign for Kosciusko County council Thursday night with an unusually large gathering at the Owl's Nest in North Webster.
Rhoades is running for one of three at-large seats on county council, and her kickoff — just days after the 2023 election ended — was as big as it was early.
The number of those at the rally was estimated at about 150 and included even a few Democrats.
Former Elkhart Mayor and state lawmaker Tim Neese, who was in town for a separate campaign event, was caught off guard by the size of the North Webster gathering.
"I've never been to an event like this whether it was for a judge or a sheriff or whatever it might be," Neese said.
Rhoades was introduced and endorsed by State Sen. Ryan Mishler, who said Republicans could benefit form attracting more young people into the party. 
She also has the support of county council members Dave Wolkins and Tony Ciriello as well as a former county council member and former Warsaw Mayor Ernie Wiggins.
County Commissioner Bob Conley voiced support for her.
"We have good people in office now, but if we're going to be a party that succeeds in the future, we have to dovetail experience and knowledge with youth and someone with a fire in the belly and this young lady has that," Conley said.
In her address, Rhoades didn't mention any of her potential opponents by name and instead said she would strive to be a voice for taxpayers.
She and her family live in the Pierceton area. She's the mother of two and works or a family business, EF Rhoades and Sons and Cottage Watchman Security.
She's involved with the Builders Association of North Central Indiana and the Indiana Builders Association.
The Republican primary is on May 7.