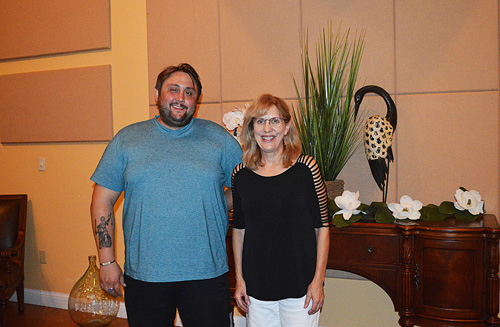 Awards were bestowed on two members of the Kosciusko County Democratic Party at the party's third annual Salute to Service dinner Saturday.
Travis McConnell, a lawyer with his own practice in Warsaw, was awarded the Dale Tucker Award by Democratic Party Chair Brian Smith.
The Dale Tucker Award was named after Warsaw's last Democratic mayor.
"Mayor Tucker's vision of the city really led the city to where it is now. He was just a forward thinking mayor," Smith said.
In the Indiana archives, there's a picture of Tucker using a slide projector, which was cutting-edge technology in the early 1970s, Smith said. Tucker used that technology in his presentations with business leaders looking to locate to Warsaw.
"He was just a forward thinker," Smith. "Tonight, I would also like to honor someone who is also a forward thinker, someone who is not afraid to stand up for what's right."
McConnell challenges Smith every day, as well as the way he thinks, Smith said.
"He wears justice on his sleeve," Smith said. "He literally wears justice on his sleeve," speaking about McConnell's Lady Justice tattoo.
"Travis doesn't have to do what he does. He's a very successful attorney, very well known in this community. But that's not enough for Travis," Smith said, saying McConnell is fighting to make Warsaw more inclusive.
"This was unexpected," McConnell said.
"Warsaw is a great community," he said. "The vast majority of people here are good people, it's just getting them engaged to fight against the small vocal minority who thinks they're in the majority when they're not."
Georganna Hart, of Syracuse, was awarded the Opal Miller Service Award by Vicki Morton, Democratic Party vice-chair.
The award's namesake was present at the dinner.
Morton called Miller the matriarch of Syracuse politics.
Starting out, she was a precinct committeewoman in Elkhart County. Then she was in charge of the polls in Kosciusko County after she moved to Syracuse.
"Opal has always done service and that's why we named the service award after her," Morton said.
Neither award winner knew they were going to be honored.
Morton said Hart helped her canvas all over Turkey Creek Township starting in July.
"We know all those streets in Enchanted Hills," Morton said. "You think you can just go to the next street, but then you have to back up and turn around."
"Even when I was out of town for a week, this person took the list and took another friend of hers to go canvasing," Morton said.
Hart didn't make a speech after receiving the award but both recipients said receiving the award was an honor.
"I don't think I did all that much," said Hart.
Hart also said she wanted to thank Morton and enjoyed her time with her.
McConnell said he would like to have known before hand so he would have remembered to thank more people than he did, as he thought more about it afterwards.
During the dinner, several political candidates were introduced and invited to say a few words.
Those candidates were Sara Strahan and Roxanne Coffelt, both are running for the Warsaw city council; Tim Yeager, who is running for Syracuse clerk treasurer; Paul Heimbach, running for district 22; and Pat Hackett and Ellen Marks, both running for the second district for the U.S. House of Representatives.