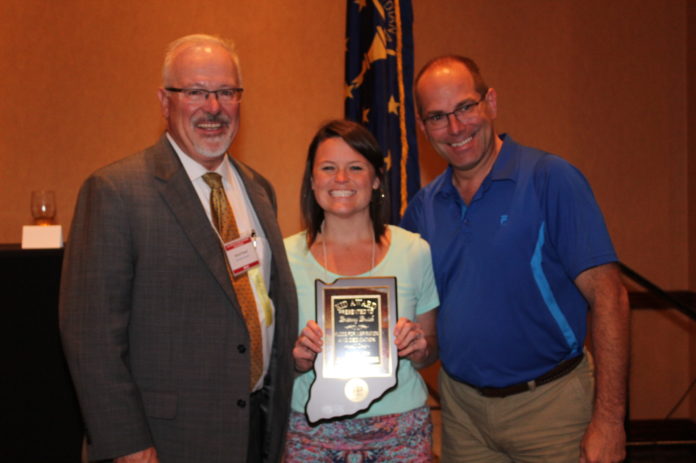 Over 625 child support workers chose Indiana's South Shore area to celebrate the 40th anniversary of the federal child support program this week. The 2016 Indiana Child Support Conference was held June 15-17 at the Radisson Hotel at Star Plaza in Merrillville.  Kosciusko County's own Brittany Bruick of the Prosecuting Attorney's Office was recognized at the event.
Bruick received the Indiana Prosecutors' K.I.D. (Kudos for Inspiration and Dedication) Award in recognition of child support enforcement caseworkers who have performed their duties in an exemplary fashion. She was recognized for taking lead and embracing the county's move towards a report based system and away from a participant complaint system.
Pictured from left to right are: David N. Powell, Indiana Prosecuting Attorney's Council Executive Director, Brittany Bruick and Robert Bishop, Child Support Deputy Prosecuting Attorney of the Kosciusko County Prosecuting Attorney's Office (photo provided).