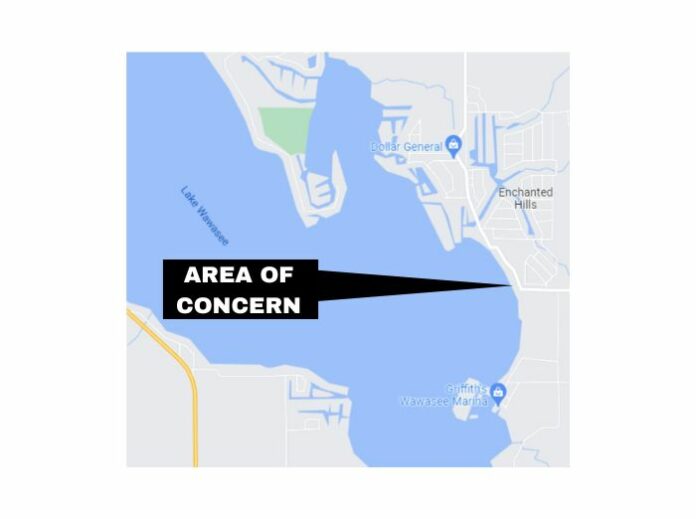 By Dan Spalding
News Now Warsaw
WARSAW — A consulting firm working with Wawasee Area Conservancy Foundation has identified a dramatic increase in sedimentation on the east side of Indiana's biggest natural lake.
Jerry Sweeten, a former Manchester College professor of biology who owns a consulting firm specializing in lake quality, spoke to the commissioners on Tuesday about the impact a housing development underway where the old Crow's Nest Yacht Club once stood is having on lake quality.
The land sits up high above the lake level and heavy rains have been resulting in the expansion of sediment in the area.
The lack of a large retention pond, he said, is resulting in a large amount of sedimentation.
Increases in sedimentation bring with it more nutrients — especially phosphorous — that can reduce water quality.
Sweeten contends the developer failed to get the necessary permits.
He says the trouble spot is the most dramatic situation he's ever seen with a lake. In an interview with News Now Warsaw afterward, he sounded shocked at what had happened.
The amount of sediment coming through the drain is "huge," he said.
"I have never seen such a disturbed site and such disregard for the quality of the lake that I've seen at this Crow's Nest," Sweeten said.
Sweeten's company, Ecosystems Connections Institute, has been working with the lake foundation for four years in an attempt to protect the lake. Much of the work has involved water testing.
WACF worked to have the lake basin designated with a special status with the U.S. Department of Agriculture that opens the door to more than $1.2 million dollars to implement best practices in the basin that will work to slow sedimentation.
Sweeten said Wawasee is the first lake in Indiana to achieve that status.
County Commissioner Cary Groniger said they're looking at assembling a committee to look at what can be done.
Commissioner Cary Groninger, responding to Sweeten, said they recently toured the site, and have been in touch with the Indiana Department of Environmental Management as well as the developer.
"We realize these lakes are a huge asset to our community and we want to make sure we can maintain them for years to come – Just trying to find that balance of what we can do that works for everyone," Groninger said.
An attorney who accompanied Sweeten and is representing a homeowner in the affected area, asked that Sweeten be part of future talks.
Groninger agreed with the request.