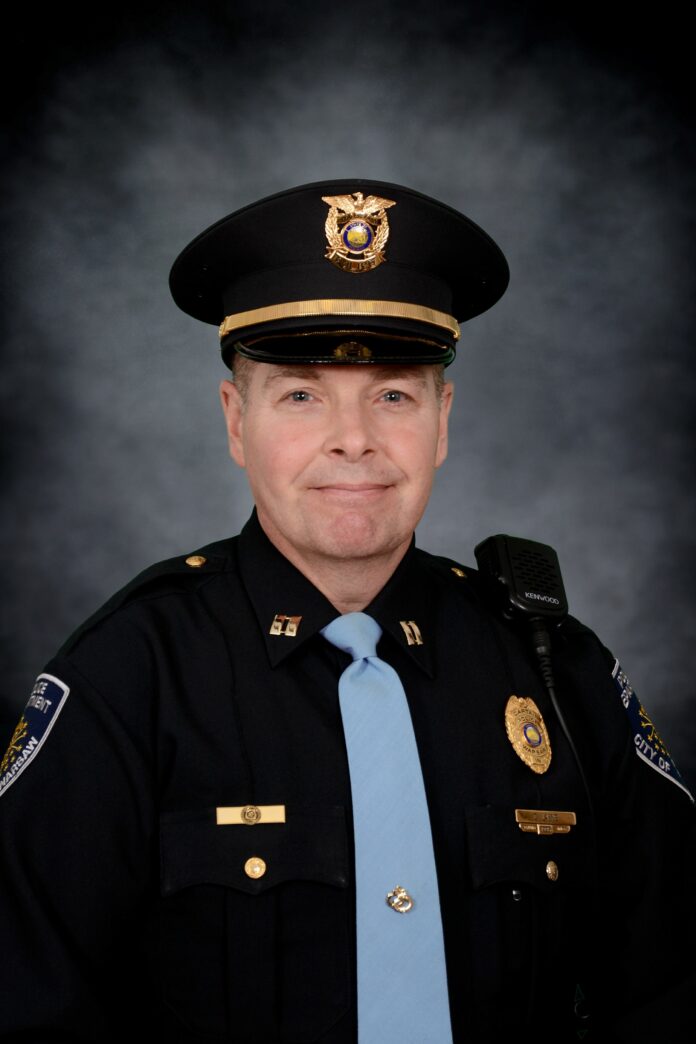 Clay Alan Layne of Warsaw, Indiana, gained his heavenly wings on Tuesday, October 19, 2021 at Fort Wayne Lutheran Hospital, at the age of 52, after an unexpected medical emergency. His life was one of service dedicated to others.  He had a caring heart and would always put others' needs ahead of his own.  More than anything he dearly loved his wife, Sandy, and daughters, Allison and Brooklynn.  He would do anything possible to attend every one of his daughters' singing, sports, orchestra, karate, and color guard performances.  Affectionately known as "DIRT" by his Blue Family, Clay dedicated 26 years of service to the Warsaw community with the Warsaw Police Department, and at the time of his passing, he was the Division Patrol Captain for the department.
He was born on August 31, 1969 in Goshen, Indiana to Roger Layne and Karen (Hamman) Layne Joyce.  A lifetime resident of Kosciusko County, Clay graduated from Warsaw Community High School in 1989.  On July 11, 1992, Clay married his high school sweetheart, Sandy Davis. Clay and Sandy raised two daughters, Allison and Brooklynn Layne, sharing all of life's joys and experiences throughout their 29 years of marriage before he passed away.
After high school, Clay joined the Army National Guard and earned an honorable discharge after eight years of service.  In May of 1995, Clay achieved his lifelong career goal of becoming a police officer when he joined the Warsaw Police Department.  He enjoyed supervising and teaching younger officers.  In 2008, he was promoted to Sergeant and became a second shift commander.  In August 2020, he was promoted to the rank of Captain, where he was tasked with overseeing the Patrol Division.  He served in many capacities, including his most recent appointment as SWAT Commander.  He was a field training coordinator and commander, member of the Warsaw Dive Team, and team commander of the Warsaw Emergency Response Team.  He was also a Sig Saur and AR-15 armorer and firearms chemical munitions instructor.  Clay was also a very skilled craftsman.  For several years he owned and operated his own business, Layne's Custom Carpentry.
He will forever be remembered as a loving son, husband, father, brother, officer, colleague, and friend to many.  He was the definition of a good guy who loved his family, community, country, and led a service-driven life.  His family says he will also be remembered as a guy who could never pass up a good chimichanga.  Clay left his footprint on this community and will be missed by all who were fortunate enough to have known him.
Clay is survived by his wife, Sandy (Davis) Layne;  daughters, Allison and Brooklyn Layne;  sister, Sara Joyce; mother, Karen (Hamman) Layne Joyce;  father and step-mother, Roger and Jane Layne, all of Warsaw, Indiana.  He is also survived by five step-sisters: Sheila, Laura, Pamela, Kimberly, and Melissa; and many nieces and nephews.  He was preceded in death by his grandparents; his step-father, James Joyce; and step-sister, Deborah.
Clay's life will be celebrated at 1:00 p.m. on Monday, October 25, 2021 at Warsaw Community Church, 1855 S. County Farm Road, Warsaw, Indiana and officiated by Chaplain Layne Sumner of the Warsaw Police Department.  Friends and family may visit prior to the service from 10:00 – 1:00 p.m. at the church.  A graveside service will follow at Oakwood Cemetery of Warsaw with military rites conducted by the American Legion Post #49, and the V.F.W. #1126 both of Warsaw.  Arrangements were entrusted to Redpath-Fruth Funeral Home, 225 Argonne Road, Warsaw, Indiana.
Memorial donations may be directed to the following Go Fund Me page…https://gofund.me/df5f4e64.  This fundraiser is to provide financial support for the family to help them pay for medical expenses, funeral expenses and to help the family get back on their feet after this tragic loss.
An account for charitable donations for the family of Clay Layne has also been set up at Lake City Bank…donations may be directed to Sandra G. Layne c/o Lake City Bank, P.O. Box 1387, Warsaw, IN 46581-1387.
To send flowers to the family or plant a tree in memory of Clay Alan Layne please visit our Tribute Store.