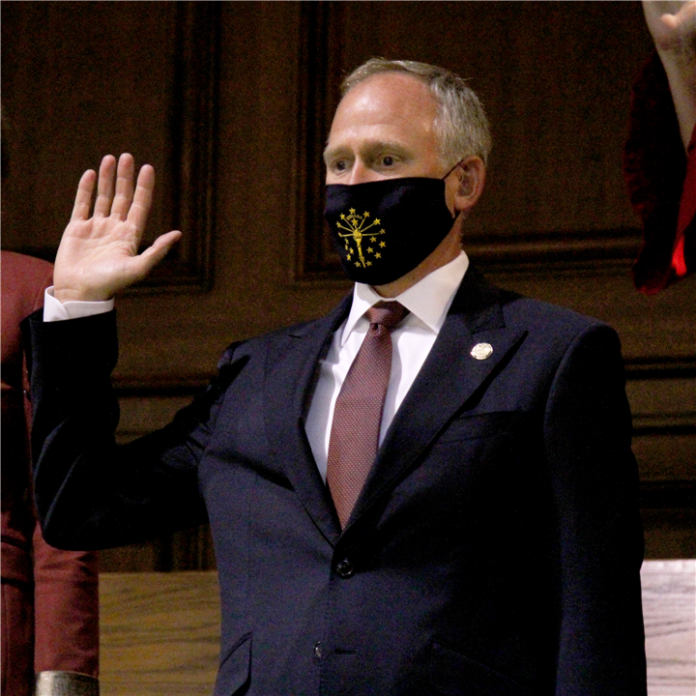 Craig Snow of Warsaw took the oath of office Tuesday to serve as state representative for House District 18.
Indiana Supreme Court Chief Justice Loretta H. Rush administered the oath to all House lawmakers during a swearing-in ceremony in the House Chamber of the Statehouse during Organization Day, the formal start to the 2021 legislative session, according to a news release from the Indiana House Republicans.
"This is a big moment, and I'm taking some time to soak it up today with my family," Snow said. "Then, it's time to roll up my sleeves and get busy representing the hardworking Hoosiers in our community. I look forward to the challenges this legislative session will bring, and want to take in as much as possible and contribute where I can."
When in middle school, Snow and his family moved to Warsaw from Missouri so his father could begin studying seminary at Grace Theological Seminary. After graduating from Warsaw Community High School, Snow attended Grace College where he earned a Bachelor of Science in business administration.
Prior to joining the Silveus Organization in 2006, where he now serves as chair of the board, Snow began his career at Zimmer and then held various leadership positions at DePuy-Synthes, a couple of the world's leading orthopedic companies. In 2010, he became chief executive officer of Cedar Holdings.
Snow and his wife, Sherri, live in Warsaw and have three grown children, Tyler, Kahler and Chloe. They are members of Winona Lake Grace Brethren Church where they are active in an adult Bible fellowship class and Snow now serves as chairman of the Elder board.
Constituents can contact Snow by calling 800-382-9841 or emailing h18@iga.in.gov.