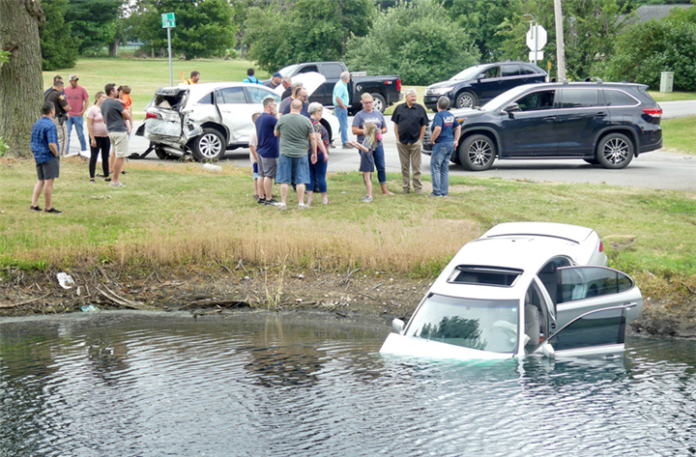 SYRACUSE – Five people were injured Sunday morning after a two-vehicle accident resulted in one of the vehicles ending up in a pond.
All the occupants of the vehicle in the pond were able to get out of the 2005 Lexus ES3.
The incident occurred at 10:38 a.m. Sunday near the intersection of East CR 1300N and North CR 300E, Syracuse, according to a Kosciusko County Sheriff's Office crash report.
Timothy C. McCreary, 36, Syracuse, driver of the 2005 Lexus ES3, stated that while he was traveling west on CR 1300N and approaching the intersection with CR 300E, a white 2017 Acura four-door Liftback proceeded through the intersection northbound in front of McCreary's Lexus. The Acura was driven by Patrick J. Mahoney, 69, Homer Glen, Ill. McCreary said he swerved to attempt to avoid colliding with the Acura but was not able to avoid the collision. As a result, the Lexus went off the road, to the right, into a pond west of the intersection.
McCreary refused medical treatment on scene but stated he, along with his two passengers, were going to be taken to the hospital by a family member, the KCSO report states. The report also states that McCreary complained of pain to the knee, lower leg and foot. Kyle McCreary, 8, Syracuse, suffered abrasions to the neck. Dominik Wilson, 12, Milford, suffered abrasions to the abdomen and pelvis.
Mahoney stated that while northbound on CR 300E, he approached the intersection where he had stopped at the intersection to allow eastbound and westbound traffic to clear. Mahoney said he then proceeded through the intersection and didn't see McCreary's Lexus traveling west on CR 1300N and was unable to avoid the collision with McCreary's vehicle.
Mahoney and his passenger were taken by Lutheran EMS to Kosciusko Community Hospital for injuries suffered in the accident, the report states.
The KCSO report states that Mahoney complained of pain to the upper leg and hip. Cheryl Mahoney, 67, Homer Glen, Ill., complained of pain to the back.
Damage was estimated at $5,000 to $10,000, the report states.