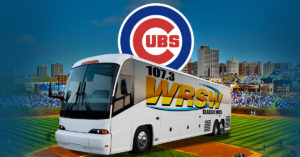 Join us for the 2019 Cubs Bus Trip with WRSW and News Now Warsaw. Sports Director Roger Grossman invites you to see the Cubs play the Pirates on Friday, July 12th at Wrigley Field in Chicago!
All tickets are $110 per person and include transportation to and from Wrigley Field, Reserved Game Ticket, transport gratuities, and parking. Other purchase fees may apply. The trip is family friendly, so no alcohol is permitted on the bus.
A complete list of trip details will be sent to you via email (you will provide your email address upon checking out).