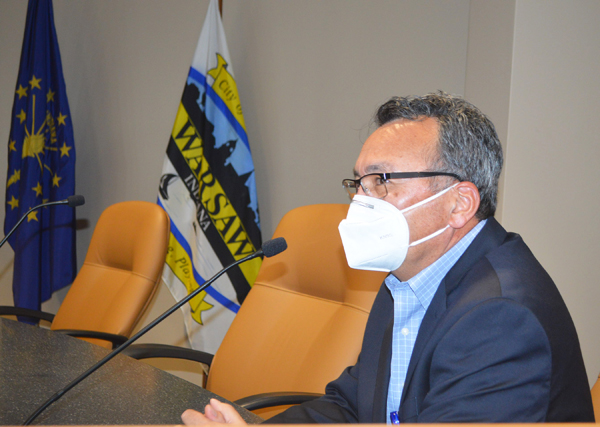 Hours before First Friday was set to begin, Warsaw Mayor Joe Thallemer announced it was cancelled because of the surge in COVID cases in the county.
More information about that surge was discussed at a special press conference at 1 p.m. Friday with Thallemer, Kosciusko Community Hospital CEO Jae Dale and Kosciusko County Public Health Officer Dr. William Remington.
"Obviously, our concern is the apparent widespread in our community as our local numbers have taken a real jump in the last 10 days," Thallemer said.
In the last 10 days, "we've had the six highest days of COVID cases, today being 96, just under 100 cases per day. A few days ago we hit 90, and it's just skyrocketing right now. This is not good," Thallemer said.
State of Indiana went over 4,000 cases in a day on Thursday for the first time, and by about noon Friday was over 4,700, he said. Citing information he read Friday morning, Thallemer said the U.S. had 102,000 new cases Wednesday – the first time it had over 100,000.
"It's a significant problem in our community, but our state and nation as well," Thallemer said, adding they want people to "really understand" how serious it is.
Kosciusko County was at a 2.5 level (orange) on the state's COVID metric map Friday. The next level is 3.0 (red), and Thallemer said they don't want to get there.
The county is averaging 175 tests per day at the Bowen Center site, which doesn't include the testing at the other medical sites. "So there's quite a bit of testing going on," Thallemer said.
Remington said the bottom line "is we're unfortunately setting records now. Nationally, as the mayor mentioned, Wednesday topped 100,000 cases in a single day, which is a new record. The seven-day rolling average is just under that 90,000 cases a day. It's more than double than a month ago."
Indiana had close to 4,500 new cases Wednesday, which is a new record. The rolling average in Indiana is getting close to 3,500, more than a triple previously, Remington said.
"So Kosciusko County cases for the month of October surpassed 1,000. Last month was a whopping month. More than tripled from the previous month," he said. "Our Kosciusko County cases weekly per 100,000 population are at 459, which surpassed last week's seven-day rolling average by 50%."
He said there's a substantial surge going on now and it's the "worst we've seen yet numerically."
Remington agreed there was a lot of testing going on, with the Bowen Center having done over 2,500 cases since it began testing 15 days ago. "That's a lot of tests. More than I really anticipated we'd be needing at this point in the pandemic," he said.
People are concerned so they're getting tested. Employers and institutions are demanding people get tested, he said.
"I want to emphasize this is not just a testing phenomenon. … There's real human  damage, if you will, this time around. We are now at 32 deaths for our county. We were at 29, I think, about a week ago. I just want to tell you that that number is really going to go up in the next three weeks. Really going to go up," Remington said.
In District 2, which includes St. Joe and Elkhart counties, he said COVID hospitalizations and ICU bed consumption is at the highest ever with this pandemic. In District 3, which includes Allen County, COVID hospitalizations are at the highest ever during this pandemic and ICU bed consumption is nearly as high as it was in the spring.
"So, this is clinical. This is not just statistical," Remington said. "So what in the world is going on here? Well, the answer is no one thing. There's no one place that's the incubator or the superspreader. Lots and lots of people being people. Social creatures. Lots of social gatherings. Small gatherings. Some larger gatherings."
He said the virus is very efficient as a respiratory pathogen with its pre-symptomatic spread.
"It's really time for action here, Kosciusko County," Remington said, advising people to behave as if they're spreading the virus unbeknownst to them. "Social distance. Wear a mask, certainly in indoor crowded spaces wear a mask. Avoid crowds in general, indoors or outdoors. If you have the least thought that you're ill, stay home. And handwashing."
Mostly, Remington said, they want to control the spread to the community's most vulnerable. The nursing homes are feeling it pretty bad.
He urged people to get immunized against the influenza, and it's hoped there will be a COVID vaccine soon.
Dale said, "It's important our community care for each other. And in doing so, we'll be able to care for them."
He said KCH has been able to manage the influx of patients it's seen and it has more than doubled since the springtime, in terms of the number of patients at the hospital.
"We've been able to manage that, working with our network, as well. It ebbs and flows, and sometimes on a daily, hourly basis."
Patients come in and they're assessed. They're then put in an appropriate level of care. "In any case, we protect them and we protect everyone in our hospital," Dale said. "If you go to any of these hospitals in our region, you'll notice a consistency in how we protect our staff and the patients and visitors that we have coming to the hospital. It's critical because we do not want to be a sourcepoint for the infection, and so far we have not been that."
People are afraid to see their doctor, to come to the emergency room or get a test done. That delays needed care, he said.
"I'm saying it because we're seeing real repercussions of people that delay that initial care and that initial testing, in our clinics and our hospitals when we test. It's just really important that you get to the appropriate level of care as you would have without COVID. To some extent, you need to trust that healthcare will take care of you. We're taking every precaution that we know," Dale said.
As far as capacity goes, Dale said, "Every hospital has different levels of capacity based on several factors. One of them being staff, the ability to take care of patients. The other being equipment or space, meaning that you got ventilators and rooms. And lastly, you've got appropriate levels of supplies such as PPE."
Since the beginning of the pandemic, he said they've been stockpiling PPE and received donations from throughout the community. They're well-stocked with PPE right now.
"I can report that we dropped the number of patients by about 40% from yesterday to today. I hope that's the start of the curve going down. My concern is, and I'm sure everybody's concern is, the holiday is coming up and families and everyone will be getting together. How will that affect and what impact will that have on the promotion of this pandemic? And I think it will have an effect. But, for now, we're able to manage it. We're able to manage the patients that are coming in, and primarily it's done because of the tremendous efforts that the staff at KCH – our physicians, our nurses, those that support the frontline staff – everybody is putting in overtime to make sure we're doing the right thing by the patient," Dale said.
The hospital is affected by its own staff being quarantined as many organizations are. He said it's coming from the outside in, not the inside out, but hopes that peaks soon.
"As of today, as of this week, we're doing OK. We are able to care for anyone who comes through our doors," Dale said.
Thallemer read a statement from Parkview Warsaw.
Parkview Warsaw Vice President of Outpatient Services Jeff Rockett wrote, "Parkview Warsaw currently has adequate resources to care for patients with COVID-19 and other health needs. However, we are concerned with the rising number of COVID-19 cases in our region. Over the last several weeks, the number of hospitalized patients with COVID-19 in the Parkview Health system has more than tripled, and new cases continue to trend upward. All of Parkview's facilities continue to maintain full clinical operations thanks to our teams's diligent planning and preparation over the last few months, and we will continue to closely monitor the situation."
He urges everyone to wear a mask, wash their hands, avoid social gatherings and stay home if they're sick.
"These practices will make a difference and help slow the spread of the virus," Rockett's statement concludes.