The death of a couple in St. Joseph, Mich., on Tuesday morning was ruled a murder-suicide.
Denise Bohn Stewart was shot multiple times by her husband Eric Stewart before he shot himself, Lt. Chuck Christensen with Michigan State Policesaid during a press conference. Bohn Stewart's body was found in the bedroom of the home in the 3100 block of Wyndwicke Drive. Her husband's body was found in the basement.
A handgun was used in both shootings.
"There is some indication this was planned," Christensen said, adding that police learned the couple was having some marital issues.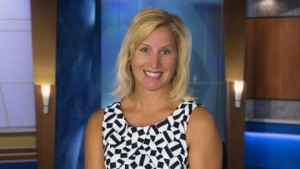 Bohn Stewart, 45, was a well known Michiana-area journalist who worked as news anchor at WSJM and was the co-host of the Denise and Jonny In The Morning Show on 98.3 The Coast. She previously worked at WSBT in South Bend for several years.
She was a breast cancer survivor who raised awareness and money for breast cancer research. She previously served as vice president of the Susan G. Komen Foundation's Michigan chapter and also spent time on the board of directors.
The couple had three children, ages 8, 9 and 10, who were not injured and are now in the care of family and friends. One of the children called 911 just before 7 a.m.