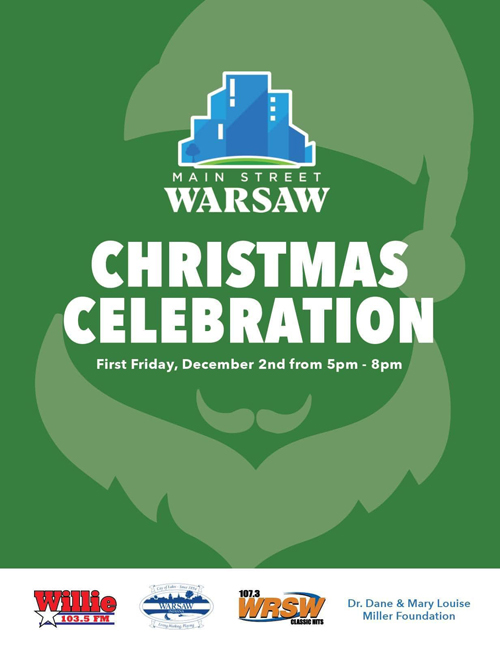 Main Street Warsaw is hosting a Downtown Christmas Celebration during First Friday on Dec. 2 in Downtown Warsaw with Kensington Digital Media.
Attendees will be able to visit Santa at the Optimist Santa House, enjoy horse-drawn carriage rides, hear live Christmas music on the Grote Automotive stage, "Christmas with a Cop," the annual Twinkle Light Parade, Kensington Digital Media's Ornament Smash kick off bash, and the lighting of the downtown Christmas lights.
Elliott's will be sponsoring free pulled pork sandwiches from Hogs R Wild BBQ for those who make a donation to "Christmas with a Cop." Tickets for the sandwiches can be picked up at the Elliott's booth.
Hot chocolate and popcorn from Rural King will also be available as well as booths set up from local vendors.
First Friday begins at 5 p.m. and will end at 8 p.m.
The lighting of the Downtown Christmas lights will be at 5:45 p.m. and the Twinkle Light Parade will start at 6:30 p.m. Those who would like to participate in the parade should meet in the old Owen's parking lot at 6 p.m.
For updates and additional information, contact Main Street Warsaw at mainstreet@kchamber.com or follow the First Friday Warsaw by Main Street Warsaw Facebook page.
First Friday is brought to you by Main Street Warsaw, Kensington Digital Media, the City of Warsaw and the Dr. Dane and Mary Louise Miller Foundation.