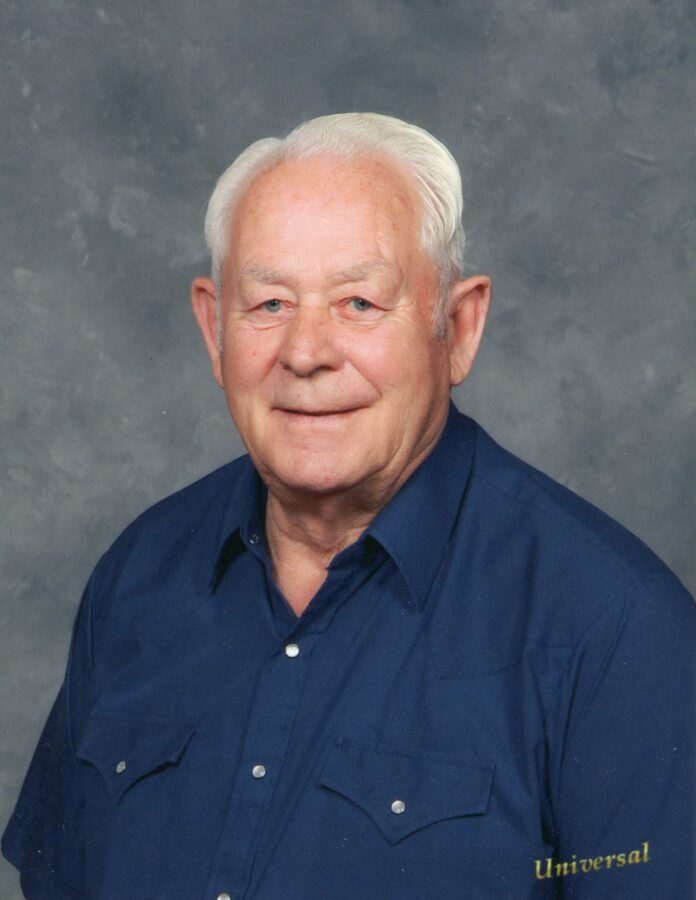 Don M. Holle of Grace Village Retirement Community, Winona Lake, Indiana passed away at 10:00 a.m. on Friday, June 3, 2022 at Grace Village Health Care at the age of 92.
He was born on June 5, 1929 in Wabash County, Indiana to Helen Elizabeth (Bonestead) Holle and Gerald William Holle.  Don enlisted in the U.S. Army on January 26, 1951, and proudly served until his honorable discharge on January 25, 1953.
He married Zoan Fike in 1953 and they shared 37 years together before she passed away in 1990.  Don was blessed to share his life again with another special lady, and he married Donna Metzger on April 16, 1994.  They enjoyed the next 28 years together.  Don attended North Winona Church of the Brethren.
During the early 90's, Don finished building his log home on Chapman Lake, which was the opening chapter and center stage to an abundance of wonderful memories.  He enjoyed countless hours serving on the Chapman Lake Conservation Board and was a prominent leader and organizer of the lake's three holiday annual pancake breakfasts for ten years.
Don took great pride in hosting annual soup parties where he prepared a large outdoor kettle of ham and beans to fill the bellies of countless family, friends and neighbors.  His greatest love was entertaining his grandchildren at the lake, which included decorating his pontoon for the annual float parades, water tubing, sledding, extravagant pancake creations, and playing flashlight tag in the dark.  Every year Don would look forward to camping at the Covered Bridge Festival in Park County.  Laughing around the campfire, swapping stories with friends, and roasting tasty marshmallows were the perfect way to spend a crisp fall weekend.
One of the highlights of Don's life was a 14-day yacht trip with is dear friend DeWane.  Navigating this journey three different times, the trip began at Lake Michigan where he traveled many rivers until they reached the Gulf of Mexico and onto the west coast of Florida.
Don loved recalling fond memories of his 34 years at Buckeye Pipeline with anyone willing to listen.  Don spent countless hours tinkering in the garage working on different wood working projects and hanging out with his buddies at his nephew's salvage yard.  Don never knew a stranger and he will be dearly missed by his family and friends.
He will be lovingly remembered by his wife, Donna Metzger Holle (Winona Lake, Indiana), three daughters, Deanne (Mark) Hoffman (Huntington, Indiana), Wende (Patrick) Corcoran (West Warwick, Rhode Island), and JoDeane (Carl) Knowles (Huntington, Indiana).  Also surviving are three grandchildren, Breanne (Ryan) Hoffman (Roanoke, Indiana), Abby (Jesse) Morganthaler (Nappanee, Indiana), Eileen (Scott) Nicola (Huntington, Indiana), seven great-grandchildren, brother, Dale (Laura) Holle (Arizona), and his sister, Mariam Stump (Arizona).  He was preceded in death by his parents, his first wife, four brothers and two sisters.
A private family graveside service will be held on Friday, June 10, 2022 at Pilgrim's Rest Cemetery in Huntington, Indiana and officiated by Pastor Mike Smith.  A celebration of life open house service, for those wishing to visit with family or pay respects, will be held in Don's honor on Saturday, June 11, 2022 from 1:00 – 4:00 p.m. at North Winona Church of the Brethren, 2475 E. 100 N., Warsaw, Indiana.  Arrangements were entrusted to Redpath-Fruth Funeral Home, 225 Argonne Road, Warsaw, Indiana.
In lieu of flowers, donations can be made to Grace Village Retirement Community designated for the new memory unit located at 337 Grace Village Drive, Winona Lake, IN  46590.
Online condolences may be sent through the funeral home's website at www.redpathfruthfuneralhome.com.