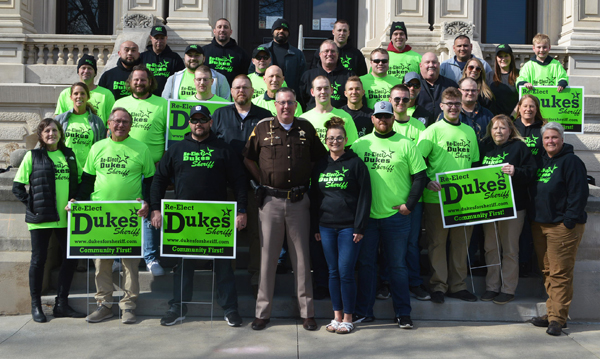 Thirty-four employees from the Kosciusko County Sheriff's Office, Jail and Work Release gathered on the south side of the county courthouse Tuesday afternoon for a photo to show their support for incumbent Sheriff Kyle Dukes.
Dukes faces challenger and Deputy Jim Smith in the May 3 Republican primary. As of April 8, the two men's campaigns have spent over a combined $75,000 in the race.
Det. Sgt. James Marshall organized Tuesday's photo event.
"It kind of came to our attention that throughout the community, there's been some things said that the rank-and-file members of the Sheriff's Office – be it the jail, patrol, work release, all the different departments within the Sheriff's Department – are not happy with the current administration and don't necessarily like the sheriff. That is completely not factual at all," Marshall said in an interview before the 5 p.m. photo.
He said "a lot of people" have been saying they support the sheriff and love the things that have been happening since Dukes started in 2019, including the changes, the progress the department has made and the direction that the department is going.
"They're very happy with it, very pleased. So they wanted to do something to show their support for the sheriff," Marshall said.
It was decided to get together as many KCSO employees who were willing to take a photo to show the community "that the majority of the department is behind the sheriff," he said.
The idea for the photo started at the Atwood fish fry recently.
"Afterwards, we all took like a group photo together and a bunch of people from the department were like, 'Hey, where was the invite? We would have come. We would have come and shown support,'" Marshall said. "We were like, 'We just kind of got together to go. And it wasn't like a big event, we just talked amongst ourselves and this is the group.' So as more and more people reached out and talked, the idea started formulating: 'There's a lot more people than I realized that are supportive of the sheriff and maybe we should get together and do a photograph.'"
By word of mouth, more people heard about the photo event and they invited others.
"So, this is 100% people volunteering to come and do this. We told people there's no pressure," Marshall said. A couple people said they support the sheriff but didn't want to get involved in the photo, and Marshall said that was OK. "We don't want anyone to feel any pressure. This is people who have taken their own time to come do this and under no pressure whatsoever. They're just happy with how things are going. Very happy with the direction the sheriff has taken the department since he's taken over."
Regardless of who wins May 3, Marshall said he's still an employee of the KCSO.
"Four years ago, I didn't vote for Kyle. I voted for former Sheriff Goshert. And Kyle came. We sat down and had a conversation and he explained what his vision was, where he wanted to go. We talked about mine. … He talked about wanting everyone to get on board. So I said, 'Hey, I work here. You're my boss now. I'm on board, let's see where it goes. I couldn't be happier with the way things are going. I never dreamed that they would be the way they are now. I'm extremely happy with the sheriff."
Should Dukes not win, Marshall said he still works at the KCSO and will show up the next day to do his job.
Marshall has been with the Sheriff's Office for 15 years. He served in the U.S. Army infantry for 13 years and was deployed to Iraq in 2003. He got out in 2007 and started working at Milford Police Department, coming to the KCSO in 2007.
He said he is not part of Dukes' campaign.
"I'm just a guy who works here and is happy with how the sheriff is running things," Marshall stated.