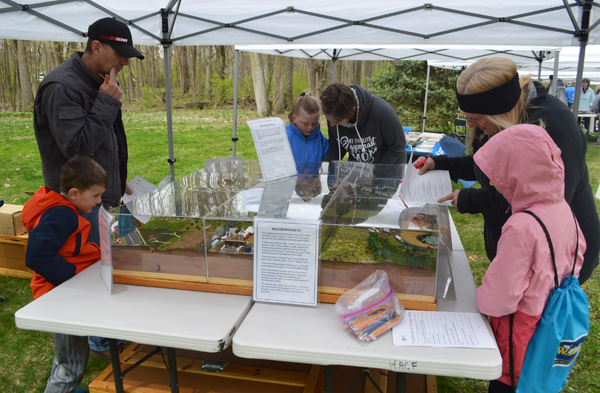 SYRACUSE – A number of booths and activities on the grounds of the Wawasee Area Conservancy Foundation Saturday celebrated Earth Day by letting people know how they can be better stewards of the world around them.
At the Kosciusko County Soil & Water District tent, there were cubes containing a replica of the county.
Tashina Lahr-Manifold, with KCSWD, said, "We have different conservation practices demonstrated in each neighborhood. So it allows people to do a scavenger hunt and find demos of conservation practices."
They also were giving away blue spruce trees and day lilies.
"I am hoping that people get a better understanding of  landscape and conservation practices that are available to them, either through our agency or through NRCS (Natural Resource Conservation Service), the federal agency," Lahr-Manifold said. "I just feel like, as a whole, people often don't think large scale, they just think of their immediate property. This might open their eyes to think about how conservation affects everyone around them and not just themselves."
Kosciusko Water and Woodland Invasive Partnership, a newer organization, addresses non-native invasive plants, aquatic and terrestrial.
Peggy Wihebrink, on the board of directors for KWWIP, talked to people Saturday about plants that they may think are "really, really pretty" but are invasive in landscapes.
"We try to address planting natural pollinators and native plants," she said.
Across the country, Wihebrink said invasive plants are an ongoing problem and each area has their own issues.
"It's something that we will never get rid of, but we just try to help control. What is unique about our organization is we address terrestrial and aquatic with all of our lakes," she said.
Right now, KWWIP is doing a study on the type of chemicals used in the lakes to eradicate certain invasive plants. It also is keeping a database on those plants and what chemicals were used.
Bob Fanning, Wawasee Area Conservancy Foundation Board of Directors member and land management chairman, said Earth Day is generally to focus people's attention on the Earth "and how we can avoid screwing it up." He said WACF's focus is more local, the watershed.
The watershed is about 24,000 acres and WACF's goal is to control pollutants coming into the lakes and streams within the watershed and to improve the water quality.
WACF is about 30 years old. Over those three decades, WACF has purchased a number of properties – about 1,000 acres – to protect the watershed.
At WACF's booth Saturday, visitors identified where they live within the watershed and then look at five simple things they can do to protect water quality in the area where they live.
Beyond Earth Day, Fanning said people can sign up to be a volunteer as WACF has several committees, sign up for WACF's newsletters or simply donate monetarily.
Stan Moore, board member with the Tippecanoe Audubon Society, said his message Saturday was that climate change is real and it's affecting our whole environment and birds are "the canary in the coal mine." The Audubon Society is one of the oldest environmental organizations in the country, he said.
"We want people to realize that climate change is real," Moore stated.
Syracuse-Wawasee Trails Executive Director Erlene Yentes was telling visitors about two different things on Saturday.
"We recently completed a feasibility study that will more than double our current size of trails, so part of that is getting input from the community regarding a survey, because that's important as well," she said. "And the other aspect is safety. We have little brochures on how to share the road, bicycling – making it safe and fun for the little ones. So it's just making awareness of trails, to promote that outdoor activity."
Currently, the trails are a little over 12 miles. "With the projected feasibility study report that we got, that will add another 12.4 miles, which will more than double our current trail system," Yentes said.
A person can access the trail at different sections, including the Lakeland Community Center, a kiosk parking area at Cornelius by the railroad tracks and Pickwick, and the WACF to access the Conklin Bay trail.
"The exciting thing is … Milford got their grant to do their trail, which is exciting. North Webster also is working on a trail that will get from the town of North Webster to (Wawasee) Middle School. So, eventually, there could be connected community, which is huge," she said.
If a person wants to get involved with the trails, Yentes said they can go online to SyracuseWawaseeTrails.com, or email Yentes at ed@syracusewawaseetrails.com.
Throughout the four-hour event, an interactive session at the WACF amphitheater titled "Does Nature Loves Us Back" featured speakers Dani Tippman, Cliff Kindy and John Edgerton. It was sponsored by Chautauqua-Wawasee.
Tippman, who is a citizen of the Miami Tribe of Oklahoma and the director at the Whitley County Historical Museum.
"We're talking about the importance of water and how it plays a role in everything, not just that we want to drink it, but that we can have gardens that feed us. That we can have maple sap that feeds us. That we can have trees that create beauty. All of those things are important for water for us. We have to realize how important it is and take care of it," she said.
Joyce Corsen, Master Gardner with Syracuse-Wawasee Garden Club, while displaying her lesson plan from the national organization, said, "We are the largest garden club in the world. The thing is, we have a local garden club and we do civic development."
They have over 12 sites in Syracuse that they take plant and manage. Any fundraising they do goes to plant more plants.
"There are four keystone plants that everybody should plant … you need sunflowers, you need asters, you need goldenrods," Corsen said. "And you have to plant trees, as well."
Other booths at Saturday's event including Boy Scouts, a wood carver and more.