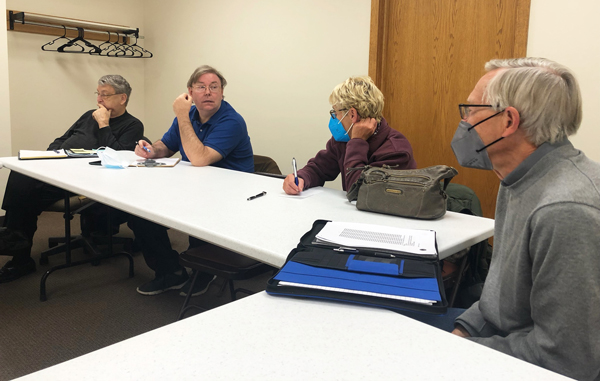 With the May primary being the first election Kosciusko County will have with voting centers, the Election Board on Wednesday reviewed and decided on some of the details in a public meeting.
The voter center concept gives any voter in Kosciusko County the opportunity to cast their ballot at any polling location throughout the county. In addition to making it easier for voters on Election Day, the vote center concept also calls for increased early voting opportunities at what are called satellite vote centers that are open prior to Election Day.
"The main thing we need to do today is sign the state form for the county certification voting system and electronic poll book inventory. So we have to get that signed and turned in to the Secretary of State's office by January 31," Ann Torpy, county clerk, said. "And then we have a resolution to allow us to open absentee ballots and count absentee ballots on election day, anytime after 6 a.m., so that will help us get a head start again."
The third thing she said the Board needed to do was talk about the non-discriminatory uniform voter registration data policy.
"Candidates can get some of this information from the state. A lot of the stuff that they can't get is a walking list that we hand out, which it gives you a street name and every house number on that street, and that is the main one we usually give besides the absentee voting. We haven't really gotten too many requests for the absentee anymore."
Board member Bill Morton asked if that information was traditionally given out on paper or CD. Torpy said CD because the county in 1995 – when voter registration data was hard to produce – passed an ordinance where if a report was done, the cost was 2 cents per voters or 10 if a floppy disc was produced.
"So we made a lot of money on that. So what we do is charge $10 per CD, but since there's also an opportunity to email them this information, we can't charge them if we email the information," Torpy said.
Some counties' election boards don't allow that information to be emailed because of confidentiality concerns. Morton asked if the voter information contained any personal information that wasn't publicly available. Torpy said no and the state only provides "certain" information.
"It only generates certain things that we can get. Like the walking list that they get, the top of the report will say 'South 425 W, Silver Lake,' and then it will give you a house number and the name of the registered voter at that house number, the date they registered to vote," she said.
There's a similar report with voter history on it for each street address.
"The walking list is our most popular list we provide to candidates or to their campaigns," Torpy said.
At the election conference this winter, she said the state reminded everyone that if a report is emailed, the county can not charge for it because of access to public records laws.
Morton asked her what the clerk's office wanted to do regarding the reports. Torpy said anyone who gets the voter data isn't supposed to share the data, but she didn't know if they are or aren't. Morton said email "almost invites forwarding the email to other people," and Torpy agreed. She said the data only takes up one CD, not 12 like it used to do.
Morton proposed not using email and revisiting the issue down the road if it becomes an issue. Board member Randy Girod agreed. Torpy said she will reword some of the policy, adding that clause in there, and present it to the Board at their next meeting.
On the resolution to count ballots any time after 6 a.m. on election day, the Board held off on taking any action for further consideration.
Torpy then brought up using the Verified Voter Paper Audit Trail (VVPAT) machines for this election.
"Right now, we still don't have enough for the entire county of those, we only have 50 or 75 of them," she said. "… We're at 207 machines, so we don't have the full thing."
The reason she said she was asking was because MicroVote, a corporation that provides election equipment, has a new paper roll that it can give the county to put in the election machines that is easier for poll workers to change out than what is currently in there.
Morton said he would not want to invest any more money in those MicroVote machines.
"I think we should be replacing those machines with something that is paper based," he said.
Torpy said the VVPAT machines the county has are the machines that the state bought.
"I've been hesitant because I'm waiting for laws to change to put us to where we have to have optical scan paper ballots," Torpy said.
She said the state is trying to push through a law to have it in place before 2029. One version of the bill wants it done by the presidential election (2024) while another wants it done by the general election of this year.
With the VVPATs, Torpy said that while she likes MicroVote, "it's the actual added equipment we send out to those polls that make it harder for us to get that material returned on election night. That's just too much for the poll workers to have 20 machines that they have to carry in, in their cars, and then bring them back down here. That's the main reason I was waiting for a law change to push us in another direction."
On one hand, Morton said, he would like to "see paper everywhere." On the other hand, if the county is going to "end up with these machines, it might be good to get some preliminary experience with them to see" how they are. Girod said he didn't have a strong opinion either way.
Torpy said they didn't need to decide Wednesday, but needed to decide soon for programming purposes. She was hesitant to make a decision before seeing what the state and federal government decided. She plans to check with other county clerks on how they're proceeding. She also will talk with county council and commissioners to prepare them that the county may need to go to a paper voting system soon.
Torpy also told Republican Party Chair Mike Ragan and Democrat Party Chair Vicki Morton that before Feb. 25 she will be sending them their ballots for review, or they can come into the clerk's office to review them. There will be 128 different ballots for Kosciusko County to look through.
On vote centers, the Election Board talked about how many inspectors, judges and sheriffs will be at each of the 21 locations, as well as the number of polling boards.
"The first election is going to be a test run for us," Torpy said.
Girod said he thinks people will be creatures of habit and want to go vote where they're most familiar.
Finally, it was determined that a public test of the voting equipment will be at 9:30 a.m. March 29 in the Justice Building Multi-Purpose Room.