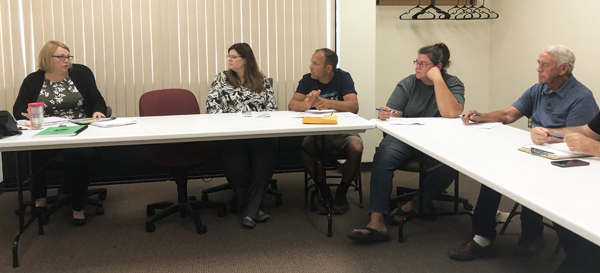 TIMES UNION REPORTS – Kosciusko County Election Board took no action Monday against four Whitko School Board members and an LLC (limited liability corporation) after reviewing election campaign finance complaints from a Larwill man.
Matt A. Gaff, Larwill, filed his complaints July 14 with the Whitley and Kosciusko county election boards as Whitko Community School Corporation includes three townships in Kosciusko and two in Whitley. Kosciusko's board discussed them at a public meeting Monday morning.
In his complaint document, Gaff states that the documents provided "show some election concerns of several candidates that have run for" Whitko School Board. "There is very little transparency from donors, as well as the Whitko Community Concerned Taxpayer LLC Political Action Committee (WCCT PAC) not being forthright with its fundraising and expenditures in the 2018 and 2020 school board elections."
According to the Whitley County Clerk's Office, Whitley County already reviewed the complaints and took them under advisement.
Kosciusko County Clerk Ann Torpy and the Election Board reviewed the complaints Monday one by one in the order that they were listed on Gaff's documents.
• For Whitko Board members Bill Patrick, Gaff said no campaign finance reports (CFAs) were filed in the 2018 election even though yard signs and other advertisements were purchased.
Torpy said school board members do not have to do that if they received or spent less than $500. She said she received a statement from Patrick stating that he did not meet that threshold. Torpy said based on the information, the Board should be satisfied with that filing of his letter.
Election Board members Randy Girod and Bill Morton were satisfied that the statute was met by Patrick and voted to take no action against him.
• For Board member Tracy Howard, Gaff said no CFAs were filed for the 2020 election even though yard signs and advertisement were purchased.
Howard was not able to be at Monday's meeting because she teaches during the day. However, Torpy said Howard came in to her office with a folder of receipts she had to present proof that she didn't reach the $500 threshold and with a sworn statement to that fact as well.
Girod said he reviewed the documentation and was satisfied she fulfilled the statute. He moved that the Board take no action and his motion was approved.
• For Board member Lynn Studebaker, Gaff said no CFAs were filed. "They showed donation of only $200, but expenditures of $630.99. Who provided the additional funding for the Studebaker campaign and why was it not reported on the campaign finance report?"
He also said Studebaker was previously investigated for alleged campaign finance violations by the Whitley County Election Board. "Section 7 in the Agreed Findings with the Whitley County Election Board and signed by Ms. Studebaker states that: 'Undersigned Respondent swears and affirms that she, as candidate, along with her campaign committee, and any other persons or organizations, have filed all campaign finance reports required for the 2020 campaign for School Board for District 2" of the school corporation.
For Annette Arnold, Gaff said CFAs were filed, but they showed donations of $700 and expenditures of $1,635.84. He asked who provided the additional funding for the Arnold campaign and why was it not reported on the CFA. He also stated that Arnold was previously investigated for alleged campaign finance violations by the Whitley County Election Board.
Torpy reported Studebaker and Arnold filed with her amended copies of their CFAs showing that some of the money received was actually personal contributions from themselves. If a candidate uses their own money on their campaign, that is considered an in-kind contribution and must be documented in the CFA.
"I feel that they have satisfied our request to file an amended form," she said.
Girod said he reviewed the amended forms and he was satisfied. "I consider those are errors, they are harmless errors, and I thank them for coming," he said, and then made a motion to take no action against Studebaker and Arnold. Girod thanked them for being willing to be a candidate.
Morton agreed with Girod and also thanked the two women for being candidates.
• Against the WCCT LLC, formed by Cory Schipper, Gaff stated that the LLC and/or its members funded campaign expenditures for Patrick since 2018 and Studebaker and Arnold since 2020.
"Neither the (WCCT LLC) nor its principal, Mr. Cory Schipper, filed a CFA-2 when they formed the political action committee. Furthermore, they have not filed CFA-4s for the last three years reporting the money they have collected or expended on behalf of candidates for the Whitko School Board," Gaff wrote.
Schipper told the Board he read through all the PAC information and thought WCCT was an LLC and not a PAC. The LLC was just a group of people who would meet together and talk about not just Whitko, but also taxes and the community. He said he gave $75 toward flyers and that's why WWCT was on the flyers.
"I didn't form that committee or the LLC for political reasons. It's just mainly to talk about the community and keep in touch with what's going on, with our school, taxes and the community and everything like that, trying to keep things like that in check is the main thing," Schipper said. "I guess after talking to the ones that were running, I just felt like … they were the ones I felt were the best for our school system, to keep making it a better smaller school and try to survive with the bigger schools, and that's the hard part right now."
Morton asked Schipper if his total expenditures were $75, and Schipper said yes and it was his own money. Schipper said WWCT doesn't collect or raise money for anything, it's just a group of people who get together and talk.
Morton asked him if he knew at what point WWCT would become a political action committee. Schipper said not exactly, and Morton said it was based on contributions and expenditures. "When you're making contributions to candidates or printing those flyers that support a certain candidate. Once you reach that $100 threshold, you become a political action committee" and you have to file the forms in Kosciusko and Whitley counties, Torpy said.
Asked by Torpy if he would like to make any statements, Gaff said, "I appreciate that they came forthright and told me everything that was going on. All the questions that I had here have been answered and I thank you for it. That's all I wanted was answers. Thank you."
Girod made a motion to not take any action and Morton seconded it.
Torpy told everyone that from this point forward, the Election Board expects everyone to follow the election laws. She said the Indiana Election Division of the Secretary of State has information about filing deadlines, PACS and more on its website.
Patrick said people had asked him to run for school board. He said he didn't spend any money on his campaign because he didn't think he had to as everyone in the school corporation knows who he is.
"I'm disappointed that you run for school board, you get on board, and you honestly try to do what's best for the kids in the community, that's what we're trying to do. We have people in the community, for whatever reason, can't seem to get away from that Pierceton/South Whitley. Hopefully, at some point, we can think as one group and not two individual groups. We're there to try to do what's best for the Whitko community and get the school back where it should be," Patrick said.
Arnold echoes Patric's sentiments and said rather than "going through all of this, come to us and ask. It's that simple."