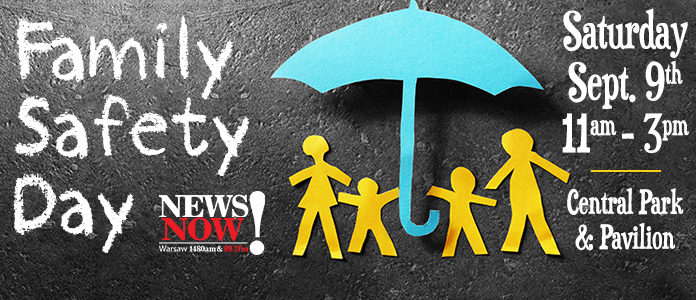 Warsaw-Wayne Fire Territory, KREMC, and News Now Warsaw proudly present Family Safety Day, happening Saturday September 9th from 11 a.m. – 3 p.m. at Warsaw's Central Park.
Family Safety Day offers hands-on experiences that teach you and your family how to stay safe.
Daren the D.A.R.E. Lion, Vince the Crash Test Dummy, and Sparky the Fire Dog will be available to meet the kids, the airlift helicopters will be available for tours, and the Police K-9s will be doing demonstrations!
Family Safety Day will also include free health screenings and a blood donation center.
In addition to lots of opportunities to learn, there will be ample opportunities to have fun.
Bring the whole family to Warsaw's Central Park and Pavilion this Saturday, September 9, for Family Safety Day.
Hear the News Now Warsaw's IN the Know episode on Family Safety Day, which features interviews with Warsaw-Wayne Fire Territory, Lutheran EMS, Kosciusko Community Hospital, and Warsaw Police:
View the official Family Safety Day flyer: