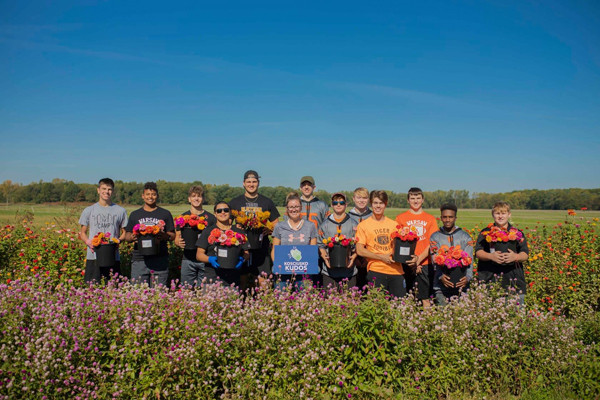 Kosciusko Chamber of Commerce presented Farmhouse Flowers and Warsaw Tiger Football with Kosciusko Kudos recognition Wednesday afternoon.
Members of the Warsaw football team helped Kristi Coverstone, owner of Farmhouse Flowers, pick and deliver flowers to nursing homes across Kosciusko County. Farmhouse Flowers opened for its first season this summer and is Kosciusko County's first flower farm with a U-pick option. They are located at 2058 E. CR 450N, Leesburg.
Kosciusko Kudos recognition is given throughout the year to individuals and businesses who go above and beyond in the workplace and/or in the community. The Chamber encourages employers to nominate their staff members and for customers to nominate employees of businesses they believe are doing a great job. Nominations will be evaluated by the Kosciusko Chamber of Commerce staff and recognition will be given to those who fulfill the criteria.
To nominate a business or individual for Kosciusko Kudos, call the Chamber at 574-267-6311 or visit the website at https://www.kchamber.com/community/kosciusko-kudos/.