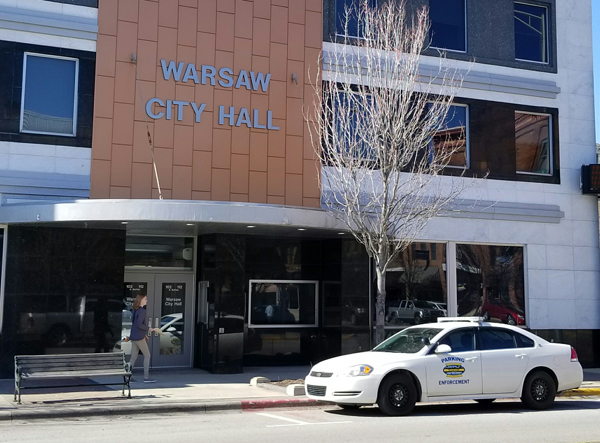 An ordinance on fireworks within the city of Warsaw failed to pass Monday on second reading by the Common Council by a vote of 1 to 6. Councilman Mike Klondaris was the sole supporter of it.
The Council had passed it on first reading at their Nov. 15 meeting by a vote of 5-1 with Klondaris abstaining, and the Council pleaded with the public to weigh in on the issue.
The state governs certain days and times for fireworks displays. The ordinance adds an additional limitation in the city of Warsaw that on Fridays and Saturdays throughout the year, that are not contained in the state statute, they would be allowed between the hours of 5 p.m. and 11 p.m., but not any other time not permitted by the state.
Eric Hoffhien, a veteran of the Afghanistan War who suffers from PTSD, asked the Council over a year ago and then again at the Nov. 15 meeting to address fireworks in the city limits. He was not present Monday.
Starting off the 20-minute discussion on fireworks Monday, Council President Jack Wilhite said he contacted Warsaw Police Department Capt. Joel Beam about calls regarding fireworks. Beam emailed to Wilhite that out of 30,000 calls to Central Dispatch for the WPD, only 10 were for fireworks. Of those 10 calls, eight were in reference to a violation of current state law, ranging from lighting fireworks in parking lots without permission to shooting fireworks from moving vehicles or while walking down sidewalks. The other two calls were noise complaints from 7:45 to 8 p.m. one night.
"I've received some opinions from members of the community. I've not received a lot," he said.
Councilwoman Cindy Dobbins said she did not hear from as many folks as she had hoped she would, maybe a dozen or so. They were "all over the map" with their opinions, and she said she did not feel prepared to vote the ordinance through Monday based on what little she heard.
Jerry Frush, councilman, said he heard comments from both sides, too.
Dobbins wondered if the Council had not gotten that many responses as they had hoped was because of the time of the year. Going into warm weather might generate more interest, she said.
Klondaris agreed that the time of the year probably does make a difference. He said he only received four or five comments and he wanted more time to hear opinions, maybe even into next year.
Mayor Joe Thallemer said it was the opinion of city attorney Scott Reust that since the Council already has taken one vote on it, a second vote should be taken Monday night. He said the ordinance could come back before the Council again in its current form or differently.
"It was publicized for the second reading tonight. You continued it, after the last reading, to tonight. I would encourage you to take a vote, and however it turns out, if it doesn't pass, you could resubmit the exact same thing at a later time," Reust said, adding that it was "poor form" not to vote on it when the vote was expected.
Wilhite said he was not sure what else they would learn that they haven't already. He said not taking a vote on it Monday would be a disservice.
Diane Quance, councilwoman, said the Council's discussion brought public awareness to the issue. Her inclination was to leave it alone for now.
Councilman Josh Finch said if there were only 10 calls about fireworks out of 30,000 to the WPD, then it was a non-issue. If there had been 100 calls, he said his ears would have perked up, but there were only 10.
A motion to consider the ordinance then was made by Quance, seconded by Dobbins, but failed 1-6.
In other business, the Council:
• Approved an amended ordinance amending chapter 74 of the Warsaw city code regarding updating traffic control devices.
The Council removed Section 74-124 (8) of the ordinance that would have made North Union Street a two-way street from Lake to Center streets. The Warsaw Traffic Commission will review North Union Street further and make a recommendation to the Common Council at a later date.
Joel Hidelbaugh, a resident of Union Street, later thanked the Council for not making a decision on Union Street yet, and suggested they speak to the residents. He said of the 36 households, he spoke to 21 of them, and obtained 21 signatures against any part of Union Street being a two-way street. Five households were indifferent.
• Took no action on a request by Cardinal Services (Kosciusko Area Bus Service) to reallocate its $12,150 for a 20% local match for one of two vehicles planned for replacement to Head Start for salaries and wages.
KABS planned to replace two vehicles through the Quantity Purchase Agreement with the state, but all 2022 vehicle projects were cancelled by the Indiana Department of Transportation because of the nationwide chip shortage.
The Council will keep the $12,150 in its 2022 budget, and suggest to Cardinal Services that it apply for money from the city's American Rescue Plan Act monies.
• Approved $5,000 from the Council's professional services to Farmers Market for marketing and advertising.
• Approved a resolution to expand the Warsaw Riverfront Development District. Community Economic and Development Director Jeremy Skinner said this was the third or fourth time for the expansion. The expansion brings in the east side of Ind. 15, and will let businesses in the district apply for a liquor license, though Skinner said it was up to the Kosciusko County Alcohol and Tobacco Commission whether a license was approved.
• Approved the Council reappointment of Klondaris and Rick Snodgrass to the Redevelopment Commission for one-year terms.
• Approved the reappointment of Dan Robinson for a two-year term to th Economic Development Commission.
• Approved a resolution adopting a written fiscal plan and establishing a policy for the provision of services to an annexed area in Wayne Township. The area being annexed into the city limits is an open field currently, but will be developed. It is along Old 30, on the south side as one heads east and is contiguous to Corridor Drive. The next step is for the Council to adopt an ordinance for the annexation.
• Held a public hearing on and adopted an ordinance on first and second reading for the vacation of alleys that have no access to them, as presented by attorney Steve Snyder. The persons adjacent to the public ways are: Anthony and Dawn Hepler, 710 N. Cook St.; Margie Caverly, 909 Taylor St.; and Vicki Sue Wallen, Eric M. Wilkie and Heather Ann Wilkie, 912 E. Arthur St.