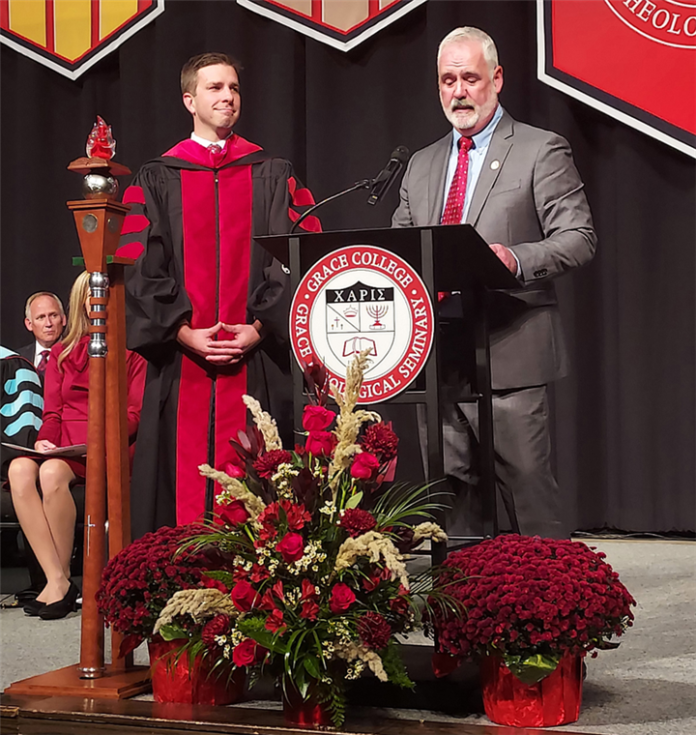 WINONA LAKE – Dr. Drew Flamm sees the foundation of Grace College & Seminary as a rock.

Flamm was inaugurated as the seventh president of Grace College & Seminary Friday.

"This moment is quite overwhelming," he said. He thanked people such as his parents, wife, children, in-laws and students and staff.

"It is an honor to stand before you today tasked with serving as the seventh president of Grace College & Seminary," he said. "In accepting this position, I do so in acknowledging God has called me, along with my family, to partner with all of you, the Grace family, in this worthwhile pursuit of knowing Christ and making Him known."

The seminary was moved to Winona Lake 1939 and the first mission statement included making Christ known.

A rock was chosen to display the mission statement at Grace College, he said. He said he found it funny a rock was chosen to display the message because the rock itself is a symbol of Christ – steadfast, immovable, sure. Rocks have long been used to build structures.

He was reminded of firm foundations in light of recent events like Hurricane Ian, which was the deadliest to hit Florida since 1935. The hurricane caused widespread damage.

But not every home was equally impacted. He said he has friends with a home in Fort Meyers, Fla., one of the hardest hit areas in Florida. His friends' neighbor's house was decimated. Flamm's friends' house remained intact.

"Why? Because it had everything to do with the home's foundation. One home decimated. One home next door still standing. You see this house was built to withstand the storms, elevated 22 feet about sea level," he said. The house was also built out of cement. He said the firm foundation was what helped the house to withstand the Category 4 hurricane.

The word rock is used 500 times in scripture, he said. He said is Jesus is the chief cornerstone. The cornerstone is the very first stone set in the construction of a foundation. It becomes a reference point for everything else that's built. Following the cornerstone is how the builders know if the building is right and true or if it's deviating. It also allows the building to stand tall.

At Grace, "we are built on our cornerstone – Christ, Jesus," Flamm said. And in Him, the school finds its mission. In Christ, the scholarship has meaning, the community is strengthened and careers have purpose.

"We stand here as a Grace family because of the men and women who have labored here together for 85 years, repeatedly relying on Christ as the cornerstone. And we praise God for giving us this firm foundation," he said.

"As we move forward in this Grace story, I intend to build upon the sure and steady foundation with four key building blocks," he said.

The first building block is spiritual vitality by nurturing students' faith.

The second building block is financial stewardship. It means making wise financial decisions and making sure students make wise financial decisions and making a Christian liberal arts education affordable, he said. One of Flamm's priorities in paying down Grace's debts. He said Grace will pay down an extra $1 million in debt this fiscal year.

The third block is staff and teacher thriving. He said when students are asked why they love Grace, the answer is the community. He said staff and teachers mentor and encourage students.

The fourth building block is student success. He said the students were the reason Grace exists because "your success is our success." Donors give to Grace so students succeed in places and go places donors couldn't. Grace wants students to be all-stars, no matter where they go.

State Rep. Craig Snow congratulated Flamm on being the seventh president of Grace. Snow said Flamm was a man of integrity and appreciated his calm demeanor. Snow said he has the respect of the board of trustees and peers.

Suzie Light, former CEO of Kosciusko County Community Foundation, said she was able to meet Flamm during an interview for the position of vice president of advancement. She said Flamm was poised, confident and answered questions in a professional manner. During that interview, Flamm showed his understanding of the college and the community around it. Many students go to Grace and choose to stay in the community afterward to make a difference, she said. Grace has trained local teachers, healthcare workers, business leaders and nonprofit leaders.

She said Flamm's Christ-centered servant leadership will help Grace attract and retain valueable employees and community leaders.

Dr. David Dockery said disappointments and setbacks will come with the position. He urged Flamm to guard his heart. He said Flamm should set his administration as one of forgiveness so Flamm is not only ready to forgive others, but also ask the community for forgiveness when mistakes happen. By the forgiving grace-filled culture, it will bring attention to the forgiveness and grace Jesus has brought. It will also strengthen the institutional culture at Grace.

Dockery told Flamm to trust the Lord to make good decisions.